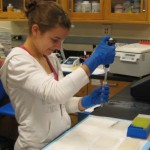 Contact: Jeff Lewin, (906) 487-3435
The twenty-third annual Department of Biological Sciences Bioathlon for high school biology students was held on Wednesday, May 2, at Michigan Technological University. Simultaneously, a workshop was held for the accompanying biology teachers.
The Bioathlon serves as a means to stimulate interest and problem-solving in biology among our area youth. Teams from 16 Upper Peninsula Michigan high schools participated. The three top scores go to these schools.
---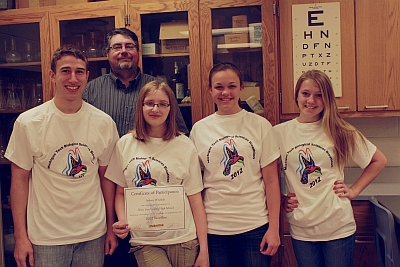 The team winning FIRST PLACE was West Iron High School, from Iron River, Mi:
Team members:
Instructor: Joel Van Lanen
Aren Newby
Megan Eagloski
Madeline Waara
Sydney Wojdula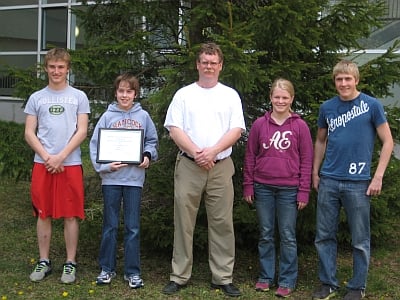 The team winning SECOND PLACE was Hancock High School from Hancock, Mi:
Team members:
Instructor: Kristin Schourek
Laura Berg
Jacob Jarvis
William Lucier
Drew Stockero
The team winning the other SECOND PLACE was Ironwood High School from Ironwood MI:
Team members:
Instructor: Paul Mattson
Katie Piispanen
Neva Bentley
Robert Burchell
Jared Joki
Each team was composed of four students who have not had formal class work in biology beyond the traditional sophomore high school general biology course. All teams tackled the same four problems:
Dissection – designed by John Durocher, Ph.D. – MEEM 1101.
Molecular Biology – designed by Stephanie Groves, Ph.D, Dow 710
Field Identification – designed by Ashley Coble, Ph.D, CandidateNorth end, Tech Trails, off Cemetery Road
Clinical Lab Science – designed by undergraduates, Kelly Roxbury, Brianna Schneider, Ana Vuk, Claire Meneguzzo-MEEM 1103
Through these exercises, students must demonstrate organizational skills, knowledge of facts and concepts, laboratory skills and creativity.
Each member of the first-place team will receive a $200 U.S. Savings Bond; the second-place team will receive a $100 U.S. Savings Bond; and the third-place team will receive a $50 U.S. Savings Bond. A plaque was awarded to the first-, second- and third-place teams. Each student participating in the competition also received a certificate of participation and a Bioathlon T-shirt.
The teacher activities included:
Dr. Thomas Werner, Assistant Professor of Biological Sciences, "Evolution of color pattern"
Stacy Cotey, Academic Advisor of Biological Sciences "Biomimicry, Nature as Inspiration"