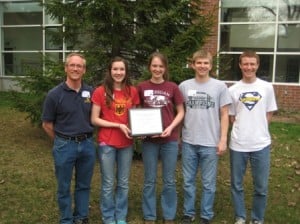 The team winning FIRST PLACE was A.D. Johnston High School from Bessemer, MI
Instructor:       David Rowe
Molly Wieringa
Valerie Rowe
Jess Mazzon
Zack Mazurek
The team winning SECOND PLACE was Hancock High School from Hancock, MI:
Instructor:       Kristin Raisanen Schourek
Andrew Bess
Kaylor Holmstrom
Matthew Sanregret
Aspen Stroud
The team winning the THIRD PLACE was Houghton High School from Houghton, MI
Instructor  Alex Gerborkoff
Brittany Coombs
Kyra Neufeld
Julia Menzel-Smith
Isaac Stone
Each team was composed of four students who have not had formal class work in biology beyond the traditional sophomore high school general biology course.  All teams tackled the same four problems:
Dissection: designed by Biological Sciences undergraduate students Shannon Twomey and Travis Wakeham with input from Dr. John Durocher and assisted by Komal Bollepogu
Molecular Biology: Designed by Biological Sciences graduate student Emily Geiger, assisted by Aparupa Sengupta.
Field Identification: Designed by Biological Sciences graduate student Ashley Coble assisted by Ramana Pidatala and Jamie Olson.
Medical Laboratory  Science: Designed and proctored by Medical Laboratory Science undergraduate students, Claire Meneguzzo, Christjana Nichols, Brooke Bedore, Kelly Hanes and Misty Brouilette with input from Senior Lecturer Alice Soldan and Professor of Practice Karyn Fay.
Through these exercises, students needed to demonstrate organizational skills, knowledge of facts and concepts, laboratory skills and creativity.
Each member of the first, second and third team will receive a small cash award along with a plaque.  Each student participating in the competition will also receive a certificate of participation and a Bioathlon T-shirt.
The teacher activity was:
What's up with the Weather? Climate Change and Aquatic Life in the Great Lakes. This was an interactive workshop developed and taught by Stacy Cotey, Academic Advisor of Biological Sciences.
In the morning, they toured the newly opened Great Lakes Research Center. The center is an interdisciplinary facility that studies the processes, function, and issues of the Great Lakes. They discussed how climate change may alter this dynamic ecosystem. In the afternoon, they conducted activities suitable for the classroom that explored the effects of a changing climate on aquatic organisms in the Great Lakes.  They collected and analyzed water samples from the dock at the Great Lakes Center and at Prince's Point.
Funding was provided by MTU Admissions, the Department of Biological Sciences, the Michigan Tech Fund, MTU Alumni Mark Cowan, M.D., Robert C. and Kathryn DellAngelo, M.D., Olive Kimball, D.Ed., Ph.D., Nancy Auer, Ph.D. and Janice Glime, Ph.D.