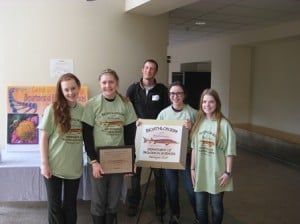 May 7, 2014
The twenty-fifth annual Department of Biological Sciences Bioathlon for high school biology students was held on Wednesday, May 7, at Michigan Technological University.  Simultaneously, a workshop was held for the accompanying biology teachers.
The Bioathlon serves as a means to stimulate interest and problem-solving in biology among our area youth.  Teams from 16 Upper Peninsula Michigan high schools participated.  The three top scores go to these schools.
The team winning FIRST PLACE was Hancock High School from Hancock, MI.
Team members:  Shannon Nulf, Ruth Venegus, Mary Jarvis, Alexis Aho
Instructor:  Brian Rajdl
The team winning SECOND PLACE was L.L.Wright High School from Ironwood, MI.
Team members: Margaret Meyer, Kathleen Mieloszyk, Corissa Mattson, Leah Braucher
Instructor: Paul Mattson
The team winning the THIRD PLACE was West Iron County High School from Iron River, MI.
Team members: Madiline McNamara, Emmy Kinner, Michelle Wiegand, Izaya Bengry
Instructor: Joel VanLanen
Each team was composed of four students who have not had formal class work in biology beyond the traditional sophomore high school general biology course.  All teams tackled the same four problems:
The four problems for the competition include:
Dissection: designed by Biological Sciences Graduate student Robert Larson and assisted by Travis Wakeham and Jenna Edwards with input from Dr. John Durocher.
Molecular Biology: designed by Biological Sciences graduate student Emily Geiger, assisted by Jennifer Connors.
Field Identification: designed by Biological Sciences graduate student Ashley Coble assisted by Tony Matthys and Troy Long.
Medical Laboratory  Science: designed and proctored by Medical Laboratory Science undergraduate students, Alyssa Elegeert, Rebecca Kurt, Roger Ellis, Sarah Westdorp, Danielle Dawson and Misty Brouilette with input from Professor of Practice Karyn Fay[j1] .
Through these exercises, students needed to demonstrate organizational skills, knowledge of facts and concepts, laboratory skills and creativity.
Each member of the first, second and third team will receive a small cash award along with a plaque.  Each student participating in the competition will also receive a certificate of participation and a Bioathlon T-shirt.
The teacher activity was: The Fungus among Us
In this workshop teachers explored some of the different roles of the fungi and conducted several simple, inexpensive activities to help students overcome their mycophobia.  The workshop was designed and taught by Stacy Cotey, Academic Advisor of Biological Sciences. Lynette Potvin, Ecologist for the US Forest Service Northern Research Station also provided a view of below-ground fungal processes with a tour of the Rhizotron and Mesocosm facilities.
Funding was provided by MTU Admissions, the Department of Biological Sciences, the Michigan Tech Fund, MTU Alumni Mark Cowan, M.D., Robert C. and Kathryn DellAngelo, M.D., Olive Kimball, D.Ed., Ph.D., Nancy Auer, Ph.D. and Janice Glime, Ph.D.,
http://www.mtu.edu/biological/department/outreach/bioathlon/