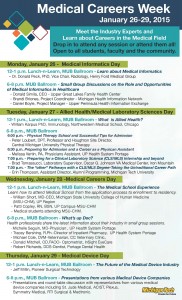 See the flyer for more details! Flyer-medicalcareersweek_final
Michigan Tech students will get to explore a wide variety of careers in the medical and health fields during a four-day event called Medical Careers Week. Medical professionals from diverse fields will be on campus to discuss their professions and the educational pathways to success in those fields and to answer students' questions.
Medical Career Week topics will be
Monday, Jan. 26—Medical Informatics
Tuesday, Jan. 27—Allied Health and Medical Laboratory Sciences
Wednesday, Jan. 28—Medical Careers
Thursday, Jan. 29—Medical Devices
Each day features a Lunch and Learn presentation from noon to 1 p.m., followed by small group discussions with visiting professionals from 6 to 8 p.m. These informal events will take place in the Memorial Union Ballroom. They are open to all students, and no registration is required.
Departments in the College of Sciences and Arts, the College of Engineering and the School of Technology pitched in to help organize the event. Guy Hembroff, director of the medical informatics graduate program in the School of Technology, helped organize Medical Informatics Day. High school students from area schools who are involved in robotics have been invited to participate.
Jason Carter, chair and professor of kinesiology and integrative physiology, and Karyn Fay, director of the medical laboratory science program in the Department of Biological Sciences, helped organize Allied Health/Medical Laboratory Sciences Day.
Stacy Cotey, director of pre-health programs, helped plan Medical Careers Day. Students from the health careers programs at local high schools have been invited to participate.
Sean Kirkpatrick, chair of biomedical engineering, helped put together Medical Device Day. A variety of medical device companies will be at Michigan Tech to discuss the future of the medical device industry.
Many of the speakers are Michigan Tech alumni, including William Karpus '84 (BioSci), Brad Tomassucci '84 (MedTech), Erin Thompson '02 (ClinLabSci), Robert Richards '77 (MedTech), Tracey Bershing, '92 (Pre-PharmEd), Michelle Seguin '07(BioSci), along with current medical students Eric Sturos and Stephanie Rutterbesch.
"Events like Medical Careers Week give students from all fields of study the opportunity to learn more about careers available in the medical field, said Shelley Farrey, coordinator of career development for Michigan Tech Career Services. "Not every student knows what avenue he or she wants to pursue in life when they enter college. Medical Careers Week gives them a chance to learn about the many opportunities available and the paths to get there."