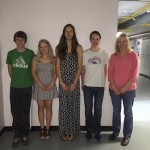 by Jenn Donovan
A team of high school students from Calumet High School took top honors in Michigan Tech's annual Bioathlon, a biology competition held Wednesday.
A team from West Iron County High School placed second and a team from A.D. Johnston HIgh School in Bessemer was third.
The Bioathlon's goal is to stimulate interest in biology and in problem-solving among high school students. Teams from 15 Upper Peninsula high schools participated. Each team consisted of four students who have not taken biology classes beyond the traditional sophomore general biology course.
The teams tackled the same four problems: dissection of a dogfish shark; biochemical effects on enzymes; field identification; and a medical laboratory science challenge.
A workshop on animal migration was offered for the teachers who accompanied the students to the competition.
Undergraduate and graduate students and biology faculty participated in designing the problems and supervising the competition.
Funding for the Bioathlon was provided by Michigan Tech Admissions, the Department of Biological Sciences, the Michigan Tech Fund and alumni Mark Cowan, Robert and Kathryn DellAngelo, Olive Kimball, Nancy Auer and Janice Glime.
More information on Bioathlon is available here.