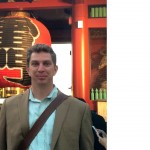 Matthew Hymes, Scientist and Entrepreneur will be giving a Biotech Career talk Thursday January 28th at 12 pm in Dow 642.  
The talk, sponsored by the Graduate Student Government, is open to all majors and degree levels.
Matthew would describe himself as an entrepreneur at heart with a passion for constant learning who found his calling in a molecular biology class at Michigan Tech. He received two degrees from Michigan Tech including a Bachelor's of Science in Biology in 2000 and a Master's of Science in Molecular Biology in 2002. He then worked as a researcher at the University of Michigan before earning an MBA in Marketing in 2007 from Baker College. After completing his MBA he took a position with a multibillion-dollar company to understand what is necessary to be a successful global organization. He parlayed this experience into a leadership role with a smaller organization with plans to expand to new markets. After building the foundation for this business, he found an opportunity back in Michigan with a biotech start-up that married his passions of molecular biology and marketing. He is currently helping this organization grow into a successful company as Marketing Director by utilizing his scientific background to create a differentiated brand.  See the flyer below for more details.