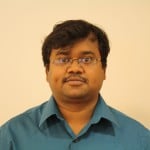 Dr. Ramana Pidatala got a new job in August 2015 as a Research Associate at DoE's Joint BioEnergy Institute in Emeryville, CA. He is working in the Plant Systems Biology group in the Feedstocks Division under Dr. Jenny Mortimer.
Ramana received a PhD in Biological Sciences from Michigan Tech in 2015. While at Michigan Tech, his advisor was Rupali Datta.
Congratulations, Ramana!