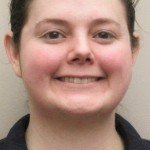 Dr. Steph Gleason (Groves) has a new position as the North America Grain Processing Application Development Leader at DuPont Industrial Biosciences.
She joined DuPont in 2014 as a member of the Grain Processing Applied Innovation Center as an Application Scientist prior to taking this new role in October 2015.
Steph received a PhD in Biological Sciences from Michigan Tech in 2013. While at Michigan Tech, her advisor was Susan Bagley.
Congratulations, Steph!