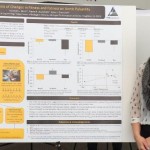 UPDATED: Link to the official news release in Tech Today.
Excerpted from an email from Lorelle Meadows, Dean Pavlis Honors College congratulating the winners of the Undergraduate Research Expo:
"During the Expo, all of the posters were judged by a minimum of 2 faculty judges. The researchers receiving the highest average scores are:
1st Place Gina Testa, Wildlife Ecology and Management
"Avian Community Responses to Stand Age in Northern Aspen Forests"
2nd Place Hannah Marti, Biomedical Engineering (who worked in Dr. John Durocher's laboratory)
"The Effects of Changes in Fitness and Fatness on Aortic Pulsatility"
3rd Place Olivia Ingram, Biological Sciences ( who worked in Dr. Kevin Trewartha's lab in Cognitive Learning Sciences)
"The Role of Implicit Memory Processes in Age-Related Declines in Motor Learning"
Congratulations!  These students will all receive a small token, a $20 gift card to dining services, lunch with the Vice President for Research and an invitation to receive their certificate at the Annual Student Leadership Awards Reception.
Expo visitors also voted on an audience choice award and we have a remarkable three-way tie.  The winners of this award are: Olivia Ingram, Lewis Marshall and Abbey Senczyszyn.  Winners of the audience choice award may stop our office beginning tomorrow to retrieve your audience choice prize."