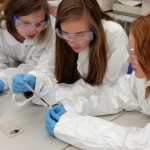 It's the best turnout in recent history for our high school visit program. Biological Sciences is proud to announce seven schools—about 180 students and their teachers—came to our spring semester event to help connect students to Michigan Tech. This year two schools attended for the first time in our program's 25-plus-year history: Copper Country Christian School and Nah Tah Wahsh PSA (Hannahville Indian School),  joining the returning Superior Central (Eben Junction), Dollar Bay, Hancock, and Ontonagon High Schools. Houghton High School was also here to participate in a cooperative joint program between Biological Sciences and Kinesiology and Integrative Physiology. Unfortunately, after several attempts to reschedule, Marquette High School was unable to make it due to winter weather.
In the morning, students were greeted by our chair, Dr. Shekhar Joshi. They heard the story of how Dr. Thomas Werner became a biologist and got career advice from Dr. Amy Marcarelli, Brigitte Morin and the advisor for Pre-health, Stacy Cotey. They also attended their first college-level lecture in anatomy and physiology.  At lunch break they were introduced to the wonderful selection of food at Wadsworth Hall's cafeteria. In the afternoon, after a quick stop to pose by the Husky Statue, they reinforced that morning's lecture using the human anatomy and physiology  laboratory equipment to measure various parameters of their respiratory, cardiac, muscle and urinary systems and then learned how to do blood typing in the Medical Laboratory Science lab.
We are excited to participate in Michigan Tech's mission to attract motivated students, including high school-aged girls, into the Science, Technology, Engineering, and Math (STEM) fields. In a broader sense the day of activities and pep talks by a diverse team of faculty, staff, and college students motivated high schoolers to think more deeply about attending college. And it hopefully encouraged a specific focus on degrees in biological sciences, medical laboratory sciences, or one of our many other life-science-related majors on campus.