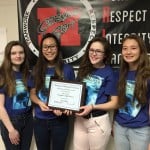 After 21 years of competing, Houghton High School ended a drought and took first place in the Department of Biological Science's 27th annual Bioathlon competition. Calumet High School took second and L.L. Wright High School (Ironwood, Michigan) rounded out third place. This year 15 western and central Upper Peninsula schools competed to display their biology knowledge. Team members did not have any biology beyond the sophomore level. The four problems the four-student teams tackled:
dissecting and identifying a list of muscles and other organs found in a pigeon, designed by graduate student Travis Wakeham.

identifying different fly genetic traits and explaining how to prepare and read an electrophoresis gel, designed by graduate student Raja Bollepugu.

visiting the ski trails to find and identify organisms involved in a food web and explaining how they interact with each other, designed by graduate student Tony Matthys.

using medical laboratory science (MLS) techniques to identify a pathogen described in a written scenario, designed by a team of MLS undergraduates Sam Doyle, Shae Thomson, Josh Bowman and Laura Kirwin.
First, second and third place teams were awarded a plaque to display at school and each student on the team was awarded $200 for first place, $100 for second place and $50 for third place. All bioathlon competitors received a certificate of participation and a t-shirt sporting this year's competition logo.
While students were busy with challenges their teachers participated in a workshop "Ethnobotany: how people use plants" led by academic advisor and botany instructor, Stacy Cotey.  Feedback indicated that the teachers were excited to learn new activities to incorporate into lesson plans.
The Department is pleased to use this outreach activity to demonstrate the exciting disciplines available at Michigan Technological University and to support the university's mission to emphasis Health, Science, Technology, Engineering, and Math (H-STEM) education.  We look forward to next year's competition scheduled for early May 2017.
Funding was provided by MTU Admissions, the Department of Biological Sciences, the Michigan Tech Fund, MTU Alumni Mark Cowan, MD, Robert C. and Kathryn DellAngelo, MD, Olive Kimball, D.Ed., PhD, Nancy Auer, PhD, and Janice Glime, PhD.
More details about the competition can be found on the Bioathlon web page.
The team winning FIRST PLACE was Houghton High School from Houghton, MI.
Team members: Andra Campbell
                               Kieran Storer                  
                               Won Young Choi
                               Ann Desrochers
Instructor:  Lauri Davis

The team winning SECOND PLACE was Calumet High School from Calumet, MI.
Team members: Chelsea Pittsley
                               Gunnar Lindemann
                               Brandon Fraki
                               Joseph Roy
Instructor:  Jennifer Peters            

The team winning the THIRD PLACE was L.L.Wright High School from Ironwood, MI.
Team members: Zane Ozello
                               Ian Hughes
                               Kinley Lyons
                               Nick Niemi  
Instructor: Cheryl Jacisin