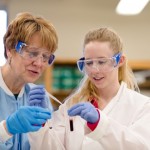 Dr. Joshi congratulates the top 10% Biological Sciences instructors in spring 2016:
Heartiest congratulations to the following faculty and graduate students from Biological Sciences Department who have been identified as one of only 85 campus-wide instructors who received an exceptional "Average of 7 dimensions" student evaluation scores during Spring 2016 semester. Their scores were in the top 10% of similarly sized sections university-wide that had at least a 50% response rate.
Provost Jacqueline Huntoon recently congratulated them for their outstanding accomplishments in teaching.
The following faculty received scores above 4.63 out of 5 on average of 7 elements of university-wide class size group with response rate of >50% on student evaluations of their lecture classes:
Dr. Amy Marcarelli, Associate Professor
Ms. Brigitte Morin, Lecturer
Ms. Karyn Fay, Professor of Practice (Winner of teaching award in 2016)
Dr. Thomas Werner, Assistant Professor (Winner of teaching award in 2013)
The following instructors received scores above 4.76 out of 5 on "average of 7 elements" of university-wide class size group with response rate of >50% on student evaluations of their classes:
Jeff Kiiskila, Graduate Student Instructor
Dr. Michelle Seguin, Instructor
Shekhar