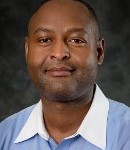 From our Chair, Dr. Joshi:
Heartiest congratulations to assistant professor Dr. Ebenezer Tumban for receiving his first NIH-R15 grant worth $457,197 for developing a new vaccine to enhance protection against oral HPV infections in HIV patients. This is a three-year project starting September 1, 2016. Dr. Tumban joined us just two years back so this is a great achievement of obtaining substantial extramural funding so fast. Great job, Ebenezer!
The official Tech Today announcement:
Ebenezer Tumban (Bio Sci/LSTI) is the principal investigator on a project that has received a $457,197 research and development grant from the U.S. Department of Health and Human Services-National Institutes of Health (National Institute of Dental and Craniofacial Research.) The project is titled, "Development of a Multi-epitope L2 Bacteriophage VLPs Vaccine to Enhance Protection Against Oral HPV Infections in HIV Patients." This is a three-year project.