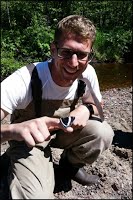 Biology student Kevin Nevorski received $5,000 in funding through the Michigan Space Grant Consortium (MSGC), sponsored by the National Aeronautics and Space Administration (NASA) for the 2017-18 funding cycle. Nevorski worked with Amy Marcarelli on this project, "Nitrogen in Space: An Examination of How Nitrogen Cycle Processes are Related in Streams and How Those Processes are Influenced at Multiple Special Scales". Kevin earned his MS and BS from Central Michigan University before joining the Marcarelli lab in 2016 as a PhD student as part of the NSF CAREER project.
NASA implemented the National Space Grant College and Fellowship Program in 1989 to provide funding for research, education and public outreach in space-related science and technology. The program has 52 university-based consortia in the United States and Puerto Rico.
As an affiliate of the Michigan Consortium, Michigan Tech has been an active participant in MSGC for approximately 20 years. MSGC funding is administered through Michigan Tech's Pavlis Honors College.
For more information, contact Paige Hackney in the Pavlis Honors College at 7-4371 or visit the MSGC website.