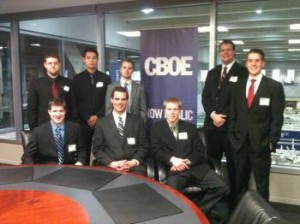 On Wednesday, March 14th, Michigan Tech's Finance Club traveled down to Chicago for a whirlwind tour of financial organizations. Their first stop? The Chicago Board of Options Exchange (CBOE) for a tour of their trading floor.
Students were able to go down on the floor of the exchange and get right next to the pits where they were trading securities with the old open outcry method.
Club President, Dan Eskola noted "It was a great experience to get down on the floor and see the open outcry auction pits trading. Many of these jobs have disappeared due to more efficient computer based trading and so it is good to see them before they go away."
After the tour the group ventured to Peak 6– a proprietary trading company– where they had lunch.  The students had the opportunity to speak with the Chief Technology Officer, Danny Rosenthall, and one of the head traders.
Finance club members were able to view their impressive trading room located in the CBOT (Chicago Board of Trade) building.  Students were grateful to speak with these professionals who explained their business in honest, frank language.  The trip is an excellent opportunity for students to understand careers suitable for finance and accounting majors as well as ask questions about the financial industry.
The group also toured the Chicago Mercantile Exchange during their trip, where a lot of the financial transactions take place for commodities. "It was a great experience to see both of their huge trading floors as well as the fixed income securities,"  added Eskola.
This trip was organized by the Finance Club that is advised by Assistant Professor of Finance, Howard Qi, in the School of Business and Economics.