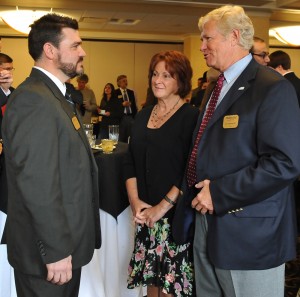 A packed MUB Ballroom was a testament to Dean Johnson, the James '67 and Delores Trethewey APMP Professor in the School of Business and Economics, his students, and the couple who have endowed his professorship.
At the reception, it was a family affair, too, as Johnson's home life was acknowledged, first by President Glenn Mroz. Johnson's family was present, and they were given credit for helping Johnson establish the program twelve years ago. The endowed professorship was a great reflection on all of Michigan Tech, Mroz added.
Dean Darrell Radson agreed, stating that as great as the Applied Portfolio Management Program was in terms of marketing and public knowledge of the School and University, it was the impact on the students that truly mattered.
"Great business schools are always part of great universities," Radson said. "And endowing the professorship is an important step toward greatness."
James Trethewey said, as he thought about the day, he thought about honoring our heroes like Johnson, and authenticity.
"I looked up 'authentic,'" he said. "And it talked about being original, trustworthy, and sincere, and that is certainly Dean. This greatness at Tech comes from everyone, too. Great leadership like Glenn, great staff, great people, including everyone in this room."
Thus, we salute our hero, Trethewey said.
Johnson spoke on the history of the APMP: from three volunteers to more than 300 students overall; from an excursion of a golf outing to NASDAQ and Chicago Mercantile visits; from a "scholarship" of a pizza dinner to all the APMP students operating on real scholarships; from a little room in the basement to a sparkling new LSGI Trading Room with a $25,000 per year Bloomberg terminal.
"It's really about coming full circle," Johnson said. "Sam Tidwell changed Jim's life, and now he and Delores are changing the lives of students."
The ceremony continued with a plethora of student testimonials, read by Ted Simonsen '07, who works for Ameriprise Financial locally and was representing his APMP brothers and sisters and all the students touched by Johnson.
"As much as I appreciate his teachings about investments," Simonsen said, in his own testimonial, "it was his way of connecting with students on a personal level that meant even more. He takes the time to get to know all of his students, and I use that great example every day."
Graduating APMP students Ann Dancy and Todd Storm, fittingly, were the last to speak. They reinforced impact that this teacher, alumnus, and program have had them, as the ceremony ended and the family of Tech celebrated heroes past, present, and future.