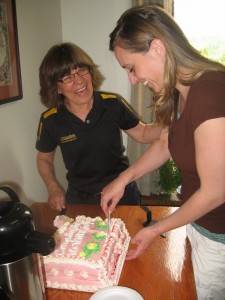 After a 37 year career with Michigan Tech, the School of Business and Economics says goodbye to long time custodian Darlene Corrigan.  Darlene kept the Academic Office Building unofficially the cleanest building on campus since 1993 and will be greatly missed.
"Darlene attacks dirt.  If you're going to have a heart attack on campus, do it our building," noted Professor Emertis Jim Gale. "The doctors can come here; Darlene keeps it more sterile than an operating room."
We thank Darlene for the time she spent with us and wish her well in all the glory of retirement.
You will be missed. Congrats!