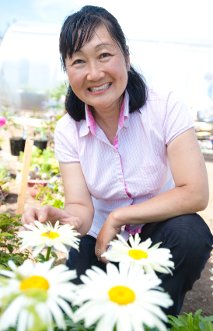 When daylight begins to last well into evening, and Houghton-Hancock area residents get in gardening mode, there's not a lot of choice at the local discount stores: petunias, impatiens, marigolds, geraniums. Or geraniums, marigolds, impatiens and petunias.
But what if you want to grow campanula, with its delicate, bell-shaped lavendar blooms?  Or morning glories to attract butterflies?  Fennel and cilantro and sweet banana peppers to spice up your summer cooking?
When Amber Campbell, an MBA student at Michigan Technological University and avid gardener, thought about that, she saw a business opportunity. With the help of Michigan Tech's Small Business and Technology Development Center and the Michigan Tech Enterprise Corporation (MTEC) SmartZone's Entrepreneur Support Center, she has turned she has turned a bright idea into a going, growing business: G&A Farmer's Market and Garden Center on Sharon Avenue in Houghton.
She opened in May in a small plastic greenhouse filled with brilliantly colored bedding plants, feathery herbs and hardy vegetables. Later in the growing season, she plans to add a fruit and vegetable stand, selling fresh, local berries, tomatoes, peppers, green beans and Asian vegetables such as garlic chives and bok choy.
In China, where Campbell grew up, she and her family grew and ate their own fruits and vegetables. "I remember how fresh and good they were," she says.  "I am bringing my own good memories to life here."
Campbell, who is also an adjunct instructor at Michigan Tech and Finlandia University, started with little more than an idea. "I like fresh produce and healthy food," she says. "And I have always liked growing things."
When Jonathan Leinonen, a SmartZone executive who teaches entrepreneurship and business development at Michigan Tech's School of Business and Economics, led a seminar about the SmartZone's Entrepreneur Support Center, Campbell immediately sought his help. "I have an idea, but I don't know how to start," she told him.
Leinonen knew exactly how to start. "He put me in touch with a lawyer who helped me fill out forms," she says. "Forms and more forms and then more forms."
Once the attorney had helped Campbell establish the fledgling garden center as an LLC (limited liability corporation), the simplest form of incorporation, another Entrepreneur Support Center counselor entered the picture.  John Diebel, assistant director of technology commercialization for Michigan Tech's Office of Innovation and Industry Engagement, counsels would-be entrepreneurs about intellectual property protection. Since Campbell's business is not high-tech and does not involve patents or licenses, he helped her with market research.
"He helped me find out if there was a demand for more variety in plants and for fresher, natural, healthier produce," Campbell says.  "And there is a great demand for more variety."
Developing a workable business plan was another bump in the road. With counsel from Leinonen, Diebel and Jim Beauchamp from the SBTDC office in Escanaba, Campbell crafted a plan so promising that, at the urging of Travis Beaulieu—an undergraduate entrepreneur who won the 2011 Bob Mark Memorial Elevator Pitch Competition—she entered the statewide New Venture Competition. Jim Baker, director of Tech's Office of Innovation and Industry Engagement; Paul Nelson, associate professor in the School of Business and Economics; Phil Musser, head of the Keweenaw Economic Development Alliance, and Leinonen helped Campbell and her team partner, Jeffrey Squires—who just graduated in mechanical engineering—polish their plans. They made it to the second round of the competition, a partnership between Michigan Tech and Central Michigan University.
Campbell has a large garden at her home in Houghton. She also has a plot in the community garden on Pewabic Street. Still, she was surprised when she started to try to prepare her Garden Center property at 400 W. Sharon Avenue for planting. "Rocks!" she exclaims. "So many rocks, and so big."
Campbell credits graduate students Fahimeh Baziari and Alex Wohlgemuth from Tech's Peace Corps Master's International Program with volunteering to help fence her site, and Tech master gardener Lynn Watson, who "gave me lots of useful advice on gardening."
Still working on her MBA and teaching at two universities, Campbell quickly learned how demanding launching a new business can be.  "I am a little overwhelmed by the demands for time and efforts," she says, "no matter how small or how well-prepared you are. Every day I start with a screaming in my heart—'Help!'"
But Campbell is optimistic about her garden center's future. "We offer greater variety, lower prices and better quality," she says. "I believe that's what people want." She's already thinking about the time when she can replace her flimsy greenhouse and roadside stand with a building where she can sell fresh, natural produce year round.
By Jennifer Donovan, originally posted in Michigan Tech News.