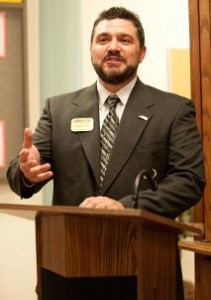 On April 22nd, the Applied Portfolio Management Program (APMP) held the sixth Annual "Junior Day". This special event serves to kick start the incoming juniors, as they take over as the new portfolio managers of the APMP portfolio. The juniors began their morning by attending the Spring APMP Advisory Board and watching the graduating APMP senior student portfolio managers present their year-end performance results.  After being introduced to the APMP Advisory Board, the juniors attended a series of guest lectures. This year's guest speakers included: Ryan Layton, Tim Bailey, Larry Durland, and Paul Kasriel.
Ryan Layton and Tim Bailey are both APMP alumni and introduce the juniors to the program that led them to the careers they have today.  Ryan currently works as a portfolio manager with Main Street Investment Advisors in Chicago. Mr. Layton discussed the importance of asset allocation and the process used by Main Street Investment Advisors to determine a portfolio's optimal asset allocation. Mr. Bailey works at Fortress Investment Group in San Francisco, which is a $44 billion Private Equity/Hedge fund. He discussed alternative asset investing strategies employed in the hedge fund industry with the new APMP students.
APMP Advisory Board Chairman Larry Durland, discussed the thoughtful development of an investment philosophy and strategy, during his time with the APMP teams. In addition to talking to the APMP teams, Mr. Kasriel also opened his presentation to the entire School of Business and Economics.  Over 60 students attended his guest lecture on the current macroeconomic decisions facing the Federal Reserve and investors. A resident of Door County, Wisconsin, Mr. Kasriel serves as the President of Econtrarian, LLC and is a senior economics and investment advisor with Legacy Private Trust Company of Neenah, Wisconsin.
Junior Day give the students exposure and experience talking with professionals working in the world of finance. As APMP team members, they will be responsible to the APMP Advisory Board as they manage over $1 million during their senior year at Michigan Tech.
Financial support for Junior Day was provided by James and Dolores Trethewey.