On November 20th, the Michigan Tech Finance Club in partnership with the Michigan Tech Office of Financial Aid and Wells Fargo held the second edition of FinanceU at the R. Van Pelt and John and Ruanne Opie Library. In line with the 2012 edition, this event aimed at fostering financial literacy on campus and was specifically tailored to students, regardless of class and major. It offered advising and information related to personal finance, financial aid opportunities (e.g. grants & scholarships), the relevance of starting  a retirement plan as early as possible, and useful tips on how to benefit from several online tools such as CashCourse – a free online personal finance program sponsored by the Alumni Association.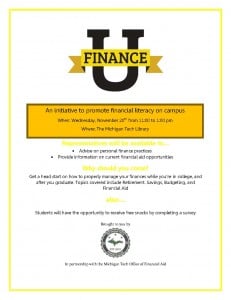 Students were asked to complete a short survey covering areas such as their current method of budgeting, Federal Direct Student Loan knowledge and any additional areas that they may have questions in. Financial Aid Advisor, Cindy Cowell noted "as a piece of our financial literacy initiative on campus, the financial aid office is pleased to partner with the Finance Club to implement programming designed to increase the financial literacy of Michigan Tech's student body." The club does an effective job of promoting the message to students that topics such as  budgeting, credit, responsible borrowing and retirement are critical to know in order to remain on a financially stable path.  Financial education now will enable students to make sound financial decisions and enable them to live the life that they desire later.
Well Fargo Store Manager Ellie Freeman also participated in Finance U noting that it is a great opportunity for students to ask questions, because it is a casual environment without any pressure. Freeman also added, "it's important to know while you are in school the importance of building credit in a positive manner." She also recommended that students have a minimum of three savings accounts: long term, short term, and 3 months salary. This event is great because it brings together people who have a great deal of knowledge about financial planning into one place that is easily accessible by students.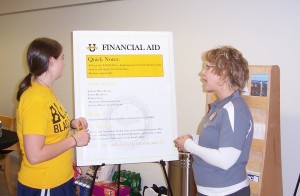 The partnership between Financial Aid and the Finance Club is effective in delivering a critical financial message to Michigan Tech students. For example, hearing about a topic such as retirement and the need to start saving at a young age, is received by students much more readily when the message is coming from a peer. Michigan Tech students often have the opportunity to contribute to a retirement plan as part of their co-op job benefits. We hope to educate students to take advantage of these kinds of financial opportunities at as young an age as possible.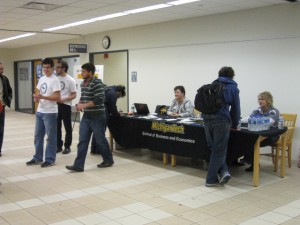 This event is the outcome of the continued efforts by the Finance Club and the Office of Financial Aid to foster financial literacy on campus. Dr. Oliveira said "our fantastic Finance Club members put significant effort to disseminate to their fellow students, knowledge and resources available either at MTU or in the world wide web that can significantly impact the betterment of personal financial management." This year the Finance Club has also invited the local Wells Fargo manager to share her experience with tailoring retirement plans according to each individual's life stage and goals. Oliveira also noted that the students' interest and participation has been outstanding this year.  The Finance Club collected 165 surveys on finance-related practices and demographics this year –  an increase of 100 relatively to the prior year. Besides disseminating information our club members get a chance to practice their communication skills and ability to test their know-how with real world questions. We are looking forward to learn from this year's experience and continuously improve this annual event.