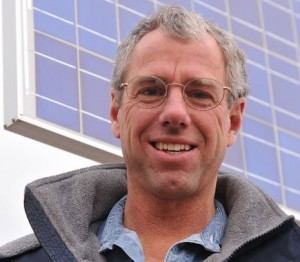 Damp wind and scattered flurries were cold leftovers from an overnight slush event: a perfect late-April Keweenaw send-off after 29 years of teaching at Michigan Technological University.
Mark Roberts, professor of economics, lectured on alternative sources of electricity on his last day in front of a class.
"Keeping up to date with the constant change," was his biggest challenge, he said before class. And, given the dramatic energy transformation over three decades, that wasn't hard to believe.
He proved it in his last lecture, covering a lot of ground and wishing he had more time.
Solar makes more sense in the sunny southwestern US, like in the Mojave Desert, he said. Drops in the price of solar cells made adding more of them more cost effective than panels with specialized lenses.
Wind has possibilities in certain locations, Roberts said, but the windier air 80 meters up makes it a better option for commercial ventures than for individuals.  The middle of the Great Plains up to Canada and the California mountain passes are promising places for wind energy..
He showed a map of coastal winds with potential for 50-meter high turbines. There are more offshore wind turbines in Europe, he said.
"As we've mentioned, the problem with the Keweenaw is not the amount of wind, but the lack of a population to use it and the need for transmission to other areas," Roberts pointed out.
Wind turbines can be considered an eyesore, and their power is intermittent, he said.
Hydroelectric power is most prevalent in the far western US, but was excluded from many federal parks and lands, such as the Grand Canyon, Yellowstone, the Sierras.
He mentioned famous examples of dams: Hoover and Grand Coulee (which generates three to four times the power of Hoover). They are operated by a giant rotor and spinning magnetic fields.
A student asked about residents displaced by the projects.
"They were compensated, but not fairly," Roberts said.
Geothermal is another western-centric energy source in the US. Roberts described it as a "hot rock area, but you need to live close to it to do any good.  Iceland, Italy and the Philippines are all heavily invested in it.
Another alternative is biomass–both forest and crop residue–which is economical to collect and use where available.
Ethanol and biodiesel are the best-known examples of biomass-based energy. The first biodiesel was actually peanut oil, a fact verified by a student.
Roberts passed around a chunk of oil shale, "a precursor to oil" found in the cliffs of Colorado. It's not economical, he said. "They've been promising it for 100 years!"
I finally saw a supply and demand chart, for hydrogen (which is an energy carrier, not a source, Roberts emphasized). Waves of memories flooded me as I recalled one of the rare tidbits of econ that made sense to me long ago.
He discussed power generated from dried manure, municipal waste, waves and tides, and the most out of this world–literally–solar collectors in space, which would generate super-intense light and heat.
"There's concern about birds hitting wind turbines, but can you imagine the birds getting cooked by that?" Roberts remarked. The class chuckled.
"The issues changed every year," the professor reiterated after class. "In the 1980s and '90s, the price of oil was low and it was abundant, but there were natural gas problems. Recently, there was a run-up in oil prices, in 2000 to 2008. We were afraid of running out of oil."
Now fracking is the big concern, he said, but without it gas prices could have soared.
"Nuclear is having a revival, and there is great potential with new ideas," he said. "But the political climate and problems with waste disposal aren't helping it."
Roberts said he's changed the course over the years to account for the influx of international students.
He'll miss Gary Campbell, who taught mineral economics with him for years, and many other people in the School of Business.
He'll continue with his own energy econ at home, with a wood-heated, solar-powered house.
"This has been a great place to work," he said. "I enjoyed it here."
This story was written by Dennis Walikainen for Michigan Tech News. Please click here to see the original posting.