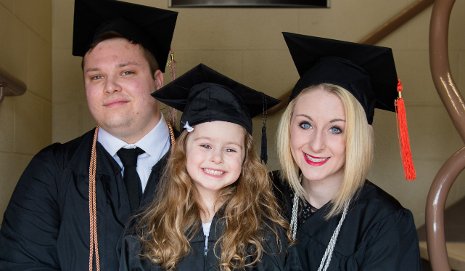 August and Elizabeth Skultety [weren't] the only ones in their family wearing caps and gowns at  Michigan Technological University's 2014 Spring Commencement Saturday.  Their 3-year-old daughter, Charlotte, [was] right there with them in a miniature cap and gown in honor of her parents' graduation from Michigan Tech.
"All of college has been a family experience for us," said Elizabeth, who is receiving her Bachelor of Science in Chemical Engineering, "so it feels like she is graduating too. She has put up with all of our studying and other commitments."
August is receiving a Bachelor of Science in Management with a concentration in supply chain and operations management. Yoopers born and raised—August from Gladstone and Elizabeth from Escanaba—the Skultetys will be moving to Midland, Mich., to start jobs at Dow Chemical.  August will be a supply chain analyst for Dow, and Elizabeth will be a production engineer with Dow AgroSciences.
Both Skultetys have fond memories of their days at Michigan Tech. Elizabeth found the chemical engineering department very hands on and the professors very personable. She is especially grateful for the mentorship of Professor Julia King , under whom she conducted research. King not only helped Elizabeth with her studies, she helped the family find day care for Charlotte when they found themselves struggling with that.
Elizabeth was also very involved in the American Institute of Chemical Engineers and is currently the president of the Michigan Tech chapter.
August said he enjoyed working with the School of Business and Economics. He had special praise for Professor Dana Johnson, who he said was very helpful throughout his Tech experience.
Houghton also proved the perfect place to pursue some of their favorite activities; hiking, camping and playing in the snow.
The couple chose to work with Dow Chemical after positive experiences as interns there. "We both chose Dow because we really liked the company as a whole," said Elizabeth. "They are a family oriented company, and we like the Midland community for that as well."
The Skultetys are looking forward to the next chapter of their lives, at Dow. "We were able to both get internships, and I was able to go to a career fair after my sophomore year and immediately get a great internship with Dow," said Elizabeth. "I was really happy that the job opportunities were so good."
August called Dow "our first choice, so it [the career fair] enabled us to get positions with our first-choice company," said August. "We both got hired in August, so we haven't had to worry all year."
Though the Skultetys are leaving, they have a bit of advice for the students who come after them: time management and a stable support system are the keys to success at Michigan Tech.
Although the family enjoyed their time in Houghton, they are ready to start the next part of their journey. "It is a relief [to graduate]. We are ready to move on and start the next chapter in our lives," said Elizabeth. "We are closing on a house this summer in Midland. We are ready to settle down in a community and get some roots."
As for the littlest cap-and-gown wearer, Charlotte is just a little sad to have to cover up the sparkly new dress she got for the occasion. She'll get to show off a little bit of sparkle, though, with the sparkly white shoes she got to complete her ensemble.
Michigan Technological University (www.mtu.edu) is a leading public research university developing new technologies and preparing students to create the future for a prosperous and sustainable world. Michigan Tech offers more than 130 undergraduate and graduate degree programs in engineering; forest resources; computing; technology; business; economics; natural, physical and environmental sciences; arts; humanities; and social sciences.
*This article was written by Erika Vichcales for Michigan Tech News, and was re-posted with the author's permission.  Please click here to see the original posting.