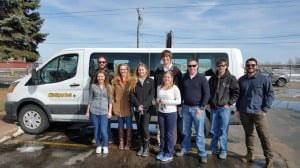 Nine students from the Michigan Tech chapter of the American Society for Engineering Management (ASEM) recently returned from a two-day industry tour.  Students toured five plants in Marinette, Wisconsin and Iron Mountain, Michigan.
ASEM made their first stop at MJ Electric where they had face-to-face time with the company's president, and an opportunity to interact with seven panelists.  Nearly 25% of MJ Electrics' current employees are Michigan Tech graduates!  The company is excited to come to fall career fair as well as participate in a career fair panel.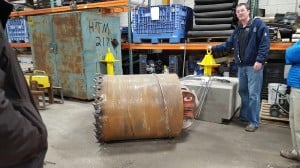 MJ Electric Facility Tour
Next stop was at Boss Snowplow where students observed their manufacturing process.  Another company with many proud Michigan Tech alum!  Some of their current employees even mentioned they wished they had had the opportunity to study engineering management during their time on campus.
Stop number three took students to Systems Control where they received an introduction to the company, and saw a lean manufacturing example of the 5S process.  This extended plant tour showed System Controls' manufacturing process from start to finish.
From there, ASEM made their way to Tyco Products.  Students learned about the background and history of the company before moving on to witness a fire suppression test.  Tyco Products has their own fire school in their facility.  This is where fire fighters and fire brigades come to learn how to operate Tyco's equipment.  Nearly 40% of their current employees received their degree on our campus!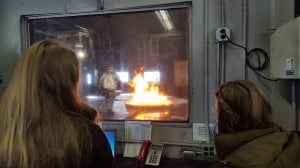 Fire suppression test
Before coming back to Houghton, students visited Waupaca Foundry.  The facility was shut down for Good Friday, which provided the opportunity to see the whole process up close.  Students learned about the company's new technologies including their robotic crimping tools.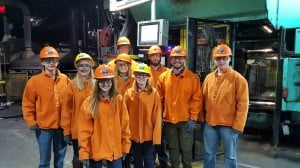 Waupaca Foundry
President of the local chapter, Tim Spehar described ASEM as "a professional group of students looking to advance the practice, principles and theory of engineering management".  Students who join the society have the opportunity to attend conferences, competitions and conferences as well as gain professional certifications and choose guest speakers to bring to campus.
ASEM meets monthly on Wednesday evenings.  For more information about ASEM, please contact Tim Spehar tmspehar@mtu.edu or faculty advisors Dr. Dana Johnson dana@mtu.edu  and Roger Woods rhwoods@mtu.edu .