On Thursday, October 6th the School of Business and Economics, Smart Zone, Michigan Economic Development Program and Michigan Tech Center for Social Innovation hosted the annual Bob Mark Elevator Pitch Competition.  In addition to cash prizes, tickets to the Silicon Valley Experience were also awarded to ten of the participants. Congratulations to all of our winners:
1st Prize – Emmet Eurich, VaccuShot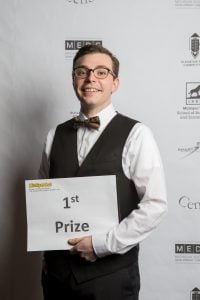 Emmet is a second year chemical engineer at Michigan Tech from Midland, Michigan.
Vacuu-Shot is a business whose sole purpose is to make the archery world a safer and better place for all of those who are and will be archers, without the risk of injury. Vacuu-Shot is based around his design, which replaces the high tension limbs and cables, as well as all of the complex moving parts found in compound bows that cause these injuries, with a vacuum piston system, lever-action limb system, and cast non-flexible frame. Vacuu-Shot plans on having their first bow line, called The Rochmaninoff, at the ATA Trade Show in Indianapolis by January of 2017.
2nd Prize – Tommy Stuart, Delving Deeply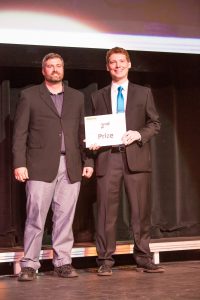 Tommy grew up in Rochester, Michigan before moving to New Jersey, Kentucky, Iowa and back to Michigan.  He has had a variety of experiences before landing himself here as a part time student taking courses in information technology here at Michigan Tech.
Delving Deeply is a project Tommy is working on with his team in the Husky Game Development enterprise program.  They are called Team 13, or "Pizza Lab" and are made up of Tommy, James Turkette, Trevor Hamilton, and Scott Murphy.  Their game is a single player top down action adventure, similar to the older 2D Legend of Zelda games.  By Decemeber they are hoping to have at least four eonnected dungeon rooms, and a puzzle or two for the player to solve while battling enemies and moving between rooms.  Their full game will be significantly larger and hpoe to release it by May 2017.
3rd Prize & Audience Favorite – Parth Bhatt & Dhavan Sharma, The Indian Restaurant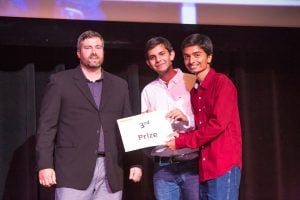 Parth and Dhavan are both graduate students at Michigan Tech from Gujarat State in India.  Parth is studying applied ecology and geographic information sience and Dhavan is in the biomedical engineering program.
After moving to Michigan Tech in August 2016, the two discovered there was not an Indian Restaurant in the area.  They found that Michigan Tech has a large community of Indian, Chinese, Nigerian and American students and professors who love Indian food but have no where to go to eat it.  Both have experience working in the food industry in India and want to serve the Keewenaw community with tasty and healthy Indian cuisine.
Best Technology – Kyle Ludwig, Tru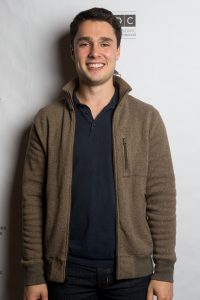 Kyle is a fourth year transfer student studying computer engineering from Traverse City, Michigan.

Tru was an idea he had to help empower people to adopt healthy lifestyles.  Since last year, Tru has grown from just Kyle to a five member team in Computer Science and Computer Engineering working on design and evelopment.  They are currently creating an automated nutrition plan for Android which adapts to personal goals and preferences over time, much like a Spotify playlist.  It is as simple as a left or right swipe on each suggestion to plan your next meal.  A weekly grocery list, recipe directions and scheduled times to prepare meals are also given.  Their launch page will be up soon, likely under a new name for insider access and updates.
Best Social Innovation – Datta Sendesh, Teelax