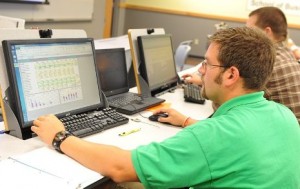 The Tech MBA Online in Michigan Technological University's School of Business and Economics has been recognized among the honor roll programs in first-ever online rankings by US News and World Report.
Michigan Tech was ranked 24th in Admission Selectivity and 38th in Teaching Practices and Student Engagement among the 161 online graduate business programs honored. The Tech MBA Online was also ranked 82nd in Student Services and Technology.
"Our Tech MBA Online is focused on innovation and technology management and is perfect for emerging industries, fast-paced environments and traditional businesses facing change," says Max Seel, provost and vice president for academic affairs. "I am very proud of the faculty and staff of our School of Business and Economics that our online degree is recognized in the honor roll lists of online programs by the US News and World Report."
Darrell Radson, dean of the School of Business and Economics, adds: "This recognition confirms that our program is successfully established as a quality online education. Through the Tech MBA Online's innovative teaching methods and residency requirements, particularly our international residency, we are producing the type of student that employers demand."
According to the US News press release, their new rankings "were created in response to today's high demand for education provided in a flexible manner. With many distractions to detract from one's schooling, online education has become increasingly popular due to its flexibility."
There were no numeric rankings for overall program quality this inaugural year, US News said. Instead, they created non-numeric honor roll lists of online programs. There is one honor roll for online bachelor's degree programs and one for the master's degree programs. Each list includes programs that performed well across a series of numeric indicator rankings.