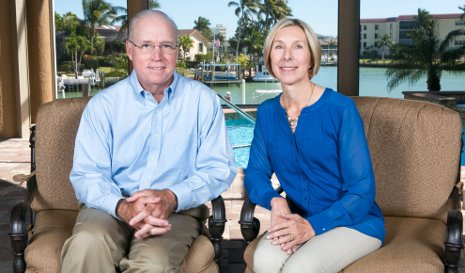 Michigan Technological University is something of an Elliott family tradition.  Dale Elliott, his older brother, two brothers-in-law, a sister-in-law as well as a niece and her husband  all went to school there.
Elliott earned an MBA from Michigan Tech's School of Business and Economics in 1979 and he has served on both the business school's national advisory board and the President's Advancement Council. He is also a Life Trustee of the Michigan Tech Fund.
Now he and his family have pledged $1.1 million in scholarship funding to help deserving business students—particularly first-generation college students—benefit from a Michigan Tech education.
"In today's world, there are some very deserving young people who just need a helping hand," he explains.
"A business person who understands technology, and a technology person who understands business is a skill set in great demand," Elliott continued, "and Tech's School of Business and Economics is doing an outstanding job of preparing students to benefit from that."
Michigan Tech President Glenn Mroz thanked Elliott for his gift, saying:  "Dale is a perfect example of someone who used his Michigan Tech education as a springboard to success and now wants to give back, to help deserving students prepare for their own future success."
Elliott, who was the midyear Commencement speaker last December, currently is CEO of  FCM Advisory Group, a consulting business he established.  Prior to that he was President of the Global Bath & Kitchen Business for American Standard Companies and Chairman, President and CEO of Snap-on Tools for many years.
At Michigan Tech's Dec. 20, 2014 Commencement, he was awarded an honorary doctorate.
About three years ago, Elliott, his wife and daughters established the Elliott Family Annual Scholarship, which helps pay for a business school student's education." We made a modest start and now we've decided to expand the program and make it more permanent," Elliott said about the new Elliott Family Endowed Scholarships.  "It reflects our ongoing commitment to supporting the educational opportunities that Michigan Tech offers."
Elliott's wife, Judy said she is very proud of her husband's accomplishments. "He was taught a strong work ethic early on and has applied that throughout his career. But even with hard work, to succeed, you have to start with a good education," she said. "He is so grateful for the education he got at Michigan Tech that he wants to give others that same opportunity, someone who might not be able to afford it otherwise. We both feel really passionate about that."
The Elliotts' daughter, Nicole Peace, pointed out that their family has generations of history with Michigan Tech and the City of Houghton.  "It is a source of tremendous pride that our father has demonstrated the significant value an advanced education can provide. By continuing his support of Tech students through this scholarship at the School of Business and Economics, more opportunities can be given to future graduates, who will learn and grow in the great setting Houghton and the Tech community has to offer."
Jennifer Elliott, the couple's other daughter, said "We are proud to be a part of this scholarship, which will enable first-generation college students to gain access to an advanced education at Tech and realize their potential for lifelong achievement. It is an honor to reinvest in the university community that has shaped our family for generations."
Gene Klippel, dean of the School of Business and Economics said that the Elliotts' gift could not come at a more opportune time. "The number of applications to the School of Business and Economics is up 23 percent from last year.  A substantial portion of those applicants are Michigan residents, with the majority being from the Upper Peninsula."
 "Thanks to Dale Elliott and his family, we are now able to provide two incoming undergraduate students a renewable scholarship worth $2,500.  Each year, two additional undergraduates will be selected to receive an Elliott Family Annual Scholarship."
"The School of Business and Economics' faculty, staff and current students greatly appreciate the generosity and support of the Elliott family,"  Klippel went on to say.  "They have been long- time friends and supporters of the School.  So, we wish to thank the Elliott family for providing this opportunity to our future business students as they work to achieve their potential and place in the world of business."
This article was originally published by Jennifer Donovan, student writing intern for Michigan Tech News.