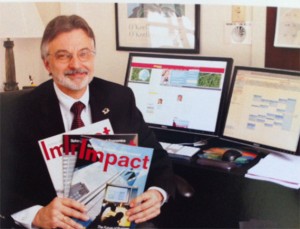 The School of Business and Economics bids farewell to Dean Darrell Radson following his resignation to accept the position of dean of the Foster College of Business Administration at Bradley University, effective May 1.
Dr. Darrell Radson has been the dean in the School of Business and Economics since 2008.
"I would like to express my sincere appreciation for Darrell's service to the School of Business and Economics and the University," said Provost Max Seel. "Under his leadership,we have changed curricula, developed new programs including an online MBA program, hired very talented faculty and staff, renewed the School's accreditation and established new endowed professorships. The School is on the path to increased recognition and greatness."
At a School reception, Radson thanked the high-caliber students he worked with and acknowledged the great administration, faculty, and staff who he will miss.
"My family and I are grateful for the opportunity to work with you in these last four years," said Dr. Darrell Radson. "The School of Business and Economics is well on the road to future successes, and I'm proud to have taken part in its growth. A goal of our life's journey is to always have a positive impact."