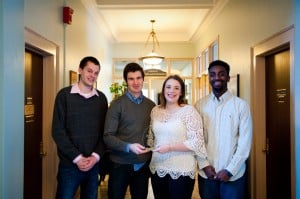 For the 4th year in a row, Michigan Tech placed second in THE Project's 2015 competition on April 13. The event was held at the Pinnacle Center in Grand Rapids, MI and included 15 teams from the State of Michigan. The competing students were asked to prepare a variety of deliverables to reduce the cost of higher education in the state of Michigan.
Michigan Tech had 2 teams both receiving recognition and awards. Michigan Tech's Team A received the highest presentation score in their division. The students of Team A consist of:
Helen Richards, majoring in Engineering Management
Arissara (Kwang) Suthijindawong, double major in MIS and OSM
Cody Waffle, majoring in Engineering Management
Michigan Tech Team B placed second overall and received the highest score in their division. The students of Team B consist of:
Taylor Auguston, majoring in Management with a concentration in Supply Chain
Kareem Fayssa, majoring in Operations Systems and Management
Frances Kallio, majoring in Operations Systems and Management
Dylan Whittaker, majoring in Operations systems and Management
Both teams worked over the course of the two semesters to prepare for their deliverables and final presentations. With guidance from Dr. Dana Johnson the students all received valuable knowledge and project management skills that can be utilized as they move forward with their careers. Kallio expressed "It was the greatest experience of my college career. Not only did my presentation and public speaking improve, but my team work, leadership and communication skills grew beyond belief."
Members of both teams improved their understanding of project management concepts along with gaining confidence in their ability to apply them to a real world experience. Fayssa noted that he now intends to pursue a career in project management and will often reflect on his experience with THE Project 2015.
This article was written by Frances Kallio.