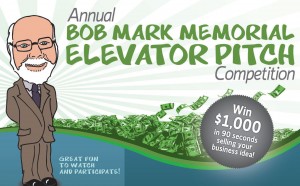 Today's university students are reminded to be careful about what they put up on their Facebook or Twitter accounts. Sometimes they forget, and that's a job for Clean It Up, the winning entry in the fifth annual Bob Mark Elevator Pitch Competition held Thursday night on the campus of Michigan Technological University.
The late business professor Bob Mark created the competition so students could polish their 90-second, new business pitches, emulating the length of an elevator ride.
The brainchild of accounting major Nikoli Wiens, assisted by chemical engineering major Zach Eckert, Clean It Up promises to clean up content and profiles on the Internet, even beyond the cleansing that Facebook and Twitter claim to do upon request.
"Companies will still dig deeper and get the info," said Wiens. "We know it's important to remove certain content, and we would do it cheaper than other services." The team claimed there was more than $1 million in revenue possible with their $25 fee; such is the need for their service.
Their motto? "Don't let one crazy weekend ruin your life forever." They won $1,000 for their efforts.
Second place and $500 went to a device to which university students could also relate. FairShare promised a simple plug-in to calculate individual electric power usage, an important consideration for students sharing living spaces and expenses.
FairShare was created by an elevator-pitch veteran, Abhilash Kantamneni, who won last year's competition with an Indian dating service.
"This can help college students save money," Kantamneni said. "It would only cost $25, so most can afford it." Kantamneni is a PhD student in computer science.
The bronze medal and Audience Favorite Award went to the ingenious Flashion, an app for your cellphone that can take a photo of a pair of shoes, for example, and instantly find their source, price, and more.
This mobile app would be free, according to creators Armando Flores, majoring in communication, culture, and media, and Allison Strome, a management major. They credited teammate and finance major Natalia Lebedeva for their inspiration, with whom they will share $250.
"She had the idea and we just built on it," Flores said. "We might try to get funding on Kickstarter [the online funding site] to form an LLC.
Safety Straw targeted chemicals added surreptitiously to people's drinks. Green Receipts sought to eliminate paper receipts at businesses. And more student-friendly businesses included Experience University, to help choose the right courses and teachers; and Food Now, to get groceries and fast food delivered to their rooms when they are in mid-cram for that final exam.
Michigan Tech entrepreneurs can also set their sights on the New Venture Competition, held at Central Michigan University in March and providing $65,000 in prize money.