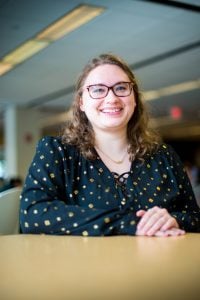 The Student Leadership Awards took place on Friday, April 20. These awards celebrate and reward the individual and group efforts of students involved in organizations across campus. There are awards for student employees, student organizations, programs, and more.
This year, Gina Roose (accounting and finance major) was selected as the Vice President for Student Affairs and Advancement Award for Service. Once nominated, Gina submitted her resume and an essay (featured below) describing the volunteer/community services she has been involved in while enrolled at Michigan Tech.
As a student, I have worked many places on campus. I started at University Images. The past 3 years, I've been a Peer Mentor for the Wahtera Center; helping students adjust to college, develop study skills, and get involved has been one of the most fulfilling experiences I've had.

My favorite job on campus has been working for Residential Life – as an RA for a year and a half, and this year as Community Coordinator. As an RA, I learned how to create an accepting community, bring people together, and apply creativity in problem-solving. This year, I enjoy fostering RA growth as a mentor in the CC role.

In all my roles, I aim to go beyond what is required. Residential Life, for example, is not about checking the boxes for me. I try to take every opportunity to help improve the lives of students I work with. While supporting students is a job requirement, I do my best to live and breathe that aspect of the job, and to extend beyond just the students in my hall. I also seize opportunities to expand my ability to support students I work with by seeking out optional training. I've been certified in Mental Health First Aid, as a Safe Place Ally, and as a facilitator for One Love domestic violence training.

While I've poured a great deal of myself into my jobs, I have also maintained a focus on school. I love my studies and have done very well in my classes. I have a passion for education, and balancing education and work allows me to combine what I learn in and out of the classroom.