KSI will be doing their Volunteer Income Tax Assistance (VITA) Program again this year. VITA is designed for students that have been through Foundations of Taxation to assist with simple income tax returns for low-income families and students who couldn't otherwise afford to hire a CPA. KSI will be starting the program  today & will go through Tuesday, April 15th.
All sessions will take place in G010D of the AOB, and there is no need to make an appointment. Just stop on in & see them! No sessions will be held over spring break, but otherwise the schedule is as follows:
Monday: 3-5pm
Wednesday: 12-2pm
Thursday: 12-5pm
Please pass this along to anyone you may think may be in need of this service!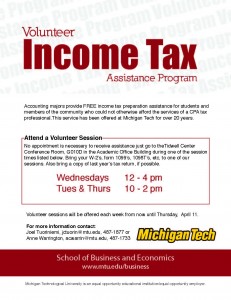 Accounting and Finance students are trained to help you with your taxes!
Tax crunch time is upon us and the Volunteer Income Tax Assistance program is here to help! This program provides FREE income tax preparation assistance at no cost for US students and members of the community who could not otherwise afford the services of a CPA tax professional.
The Volunteer Income Tax Program has been offered on the Michigan Tech's campus for over 20 years. Tax forms are prepared by accounting and finance students who have complete a semester tax course and a special training seminar. Students volunteer their time and talent for this community service program. Last year over 50 students and community members benefited from this service.
Attend a Session
No appointment is necessary to receive assistance just go to the Academic Office Building, room G010-D the Tidwell Center Conference Room, during one of the session times listed below.
Wednesday: 12 – 4 pm
Tuesday and Thursday: 10 – 2 pm
Bring your W-2′s, form 1099's, 1098T's, etc., to one of our sessions. Also bring a copy of last year's tax return, if possible.
Volunteer sessions will be offered each week from now until, Thursday April 11, 2013.
For more information contact:
Joel Tuoriniemi, jctuorin@mtu.edu, 487-1877 or
Anne Warrington, acwarrin@mtu.edu, 487-1733