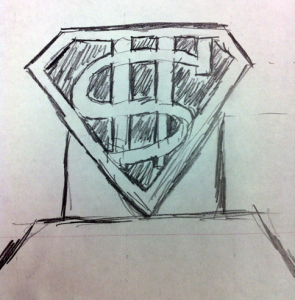 Calling all School of Business and Economics students, faculty, staff and friends…  Winter Carnival is just around the corner and we want to invite you to join in on the fun!!  We have entered the School of Business and Economics in the all-nighter competition again this year.  We have done well in the past and hope to continue that streak this year!
The theme for Winter Carnival 2013 is "Heroes and Villians Find Their Powers, In These Frozen Winter Hours!"  For more Winter Carnival information and events check out the official website.  Our statue will include a superman symbol with the "S" being replaced with a "$".  The quote we have selected is: Super students have the power to double your money in an hour.
The all-nighter is next Wednesday, February 6th starting at 4:00 pm. As the name suggests, we will be building all night long (or at least until we are satisfied with our design).  We will be providing  pizzas, coffee, hot cocoa, and some baked goods for all statue builders!
We hope to see you all next Wednesday even if it is just to socialize and kick off the event!