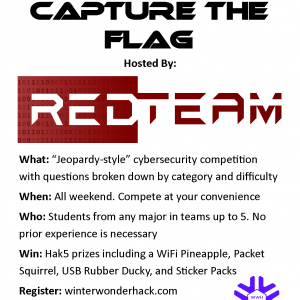 In conjunction with the 36-hour Winter WonderHack, February 21-23, 2020, on Michigan Tech's campus, the Michigan Tech RedTeam is running a Capture the Flag cybersecurity competition. The competition is designed to appeal to both beginners and the more experienced competitors. Everyone is welcome, especially undergraduates. Free swag and prizes will be awarded. Register at winterwonderhack.com. Email jrbergma@mtu.edu with questions.
About the Capture the Flag competition:
What: Jeopardy-style cybersecurity competition with questions broken down by category and difficulty.
When: All weekend, February Compete at your convenience.
Who: Students from any major in teams up to 5. No prior experience is necessary.
Win: Hak5 prizes including a WiFi Pineapple, Packet Squirrel, USB Rubber Ducky, and Sticker Packs.