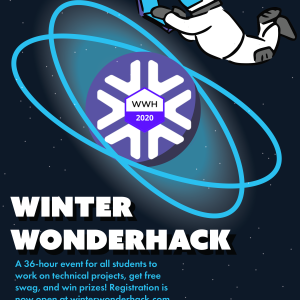 Winter Wonderhack will take place on the Michigan Tech campus February 21-23. The free 36-hour event is for all students to work on technical projects. get free swag, and win prizes. Register at winterwonderhack.com.
Also part of the Winter WonderHack, the Michigan Tech RedTeam is running a Capture the Flag cybersecurity competition. The competition is designed to appeal to both beginners and the more experienced competitors. Everyone is welcome, especially undergraduates.
About the Winter WonderHack:
WHAT DO I DO? Whatever you can dream up! A hackathon; A makeathon; an inventathon – whatever your take on it, this is about using your passion to learn and create something new.
WHO IS ELIGIBLE? If you are a current student, or if you have graduated in the last 12 months, you are eligible. If you are a high-school student and want to attend, great! Contact us below.
DO I NEED ANY PARTICULAR SKILLS? IS THIS FOR ME? You don't need anything except your brain and passion. Everyone of all fields of study and levels of experience is welcome. You don't have to be an engineer or a programmer or designer to belong here. Additionally, we will have multiple workshops, crash-courses and mentors to kick-start and guide you to where you want to be.
DO I HAVE TO BE ON A TEAM, OR CAN I FLY SOLO? Either is fine; you can go solo or be in a team of up to four people. Note: Competing alone does not mean you get four times the prizes, sorry 🙁
HOW MUCH DOES IT COST? Nothing! We will provide everything – food, sleeping space, power, internet, snow…
WILL THERE BE PRIZES? SWAG? FOOD? Yes, yes, and yes. This event is about learning and fun, but we've partnered with our sponsors to bring some awesome prizes to WWH, including some surprises.
I DON'T HAVE ANYTHING TO DO! Not a problem! Many people don't have plans down when they arrive. There will be time and space to get together with students from other schools and get some ideas flowing. Meeting new people, being exposed to new ideas, and learning new things is one of the best things about coming, and many people also often end up creating great things, making friends, or even starting companies.
WHAT SHOULD I BRING? WILL THERE BE ANYTHING AVAILABLE TO USE? Bring whatever you need, but keep it light. This probably means a laptop, a change of clothes and other basics, and whatever you plan on using for your project. Make sure you bring a student ID (and a photo ID if your student ID does not have a photo). We'll have some hardware available for the duration of the event as well as tools, 3d printers, materials like wood and foam, and a few freebies like free web domains.
WILL I BE COLD? No, you will not be cold (it doesn't get that cold here… relatively speaking); if anything you'll be quite toasty inside. Do dress appropriately though (mittens!), especially bearing in mind that you might want to do something happening outside, where while not overly cold, it will be a winter wonderland with MTU's 300+ inch-per-year snowfall and plentiful ice sculptures from the Winter Carnival.
HOW DO I GET THERE? Directions to the venue can be found here.
WHEN IS THE DEADLINE TO REGISTER? The first round of decisions will be made in early February. This isn't a deadline, and if we don't have room for you at first, we may accept you later; it is common to be accepted off the waitlist after the first round of decisions.
ARE THERE ANY RULES? You must abide by our Code of Conduct. You don't necessarily have to start your project from scratch, but you can't submit anything you did before the start of the event. All work must be done at the event.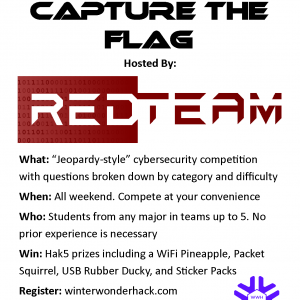 About the Capture the Flag competition:
What: Jeopardy-style cybersecurity competition with questions broken down by category and difficulty.
When: All weekend, February Compete at your convenience.
Who: Students from any major in teams up to 5. No prior experience is necessary.
Win: Hak5 prizes including a WiFi Pineapple, Packet Squirrel, USB Rubber Ducky, and Sticker Packs.