---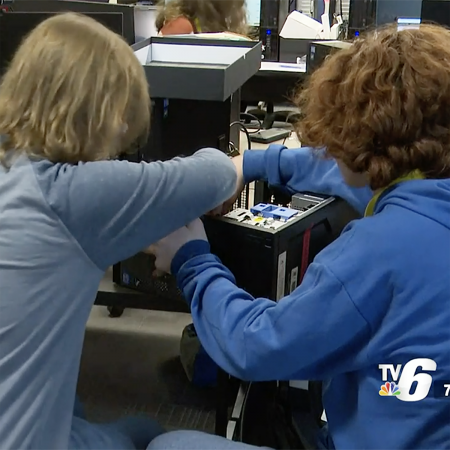 A story about this week's GenCyber camp for K-12 students was aired on TV6 WLUC, Marquette, on June 29, 2022. This is the fourth GenCyber summer student camp to be hosted at Michigan Tech. The no-cost, one-week residential camp aims to teach youth about computing, safe online behavior, and cybersecurity careers. This year's camp theme is Cybersecurity and Artificial Intelligence.
Nearly 60 students from across the country are exploring their interests in computing and cybersecurity and learning how to protect themselves on line. The camp encourages students to pursue careers in cybersecurity, and to share their new knowledge about internet security with others.
"We want the kids to go back home and tell their parents, tell their friends how to protect themselves online," said Yu Cai in the story. Cai is director of the camp and a professor in the Department of Applied Computing.
Also interviewed in the news story were Tim VanWagner, assistant teaching professor in the Applied Computing department, and several participating youth, who encouraged other students to attend the camp next summer.
A similar camp for K-12 teachers takes place at Michigan Tech the week of July 11, 2022.
The Michigan Tech GenCyber camps are funded by the National Security Agency (NSA) and the National Science Foundation (NSF). Camp activities include hands-on exercises, interactive lectures, games, career exploration, and campus tours.