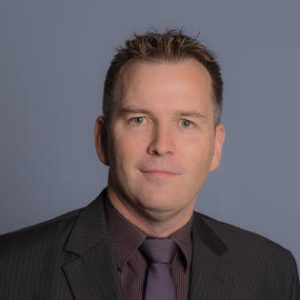 Dr. Timothy Wilkin, associate professor of computer science and associate head of school (student learning) within the School of Information Technology, Deakin University, Australia, will present a talk at Michigan Tech on Monday, October 7, from 4:00-5:00 p.m., in ME-EM 112. A reception and refreshments will follow.
Dr. Wilkin's talk, "Adventures of a Cyber-Physical Cow," will present findings from his recent industry-based research into the use of wearable technologies in livestock farming.
Talk Abstract: Fitness and activity trackers, and other wearable sensors have revolutionised both professional sports and the general health & wellbeing market. On the other hand, wearables to support precision livestock farming and general animal health and wellbeing tracking are virtually non-existent. There are significant opportunities to support and grow concepts such as "paddock to plate" food provenance, particularly in the meat and livestock sector, through the use of wearable technologies. In this talk I will present some recent industry-based research between Deakin University and Agersens Pty Ltd, an Australian manufacturer of a world-leading geofencing technology for livestock. Real-time behaviour classification and analytics were used to both improve the existing product, as well as to create new data products for farmers and a greatly enhanced marketability for their smart collar. I will also highlight how this industry-based research has led to several interesting and challenging research questions that have driven ongoing fundamental research in data science at Deakin.
Dr. Wilkin's Bio: Dr Wilkin's research interests cover problems in computational and artificial intelligence to support sensor and data analytics, with applications in intelligent control for robotics and autonomous systems, embedded/edge AI, and intelligent sensing. His research has been applied in diverse areas, from marine ecology to childhood health, farming, defence and commercial robotics. Dr Wilkin is also an innovative, award-winning teacher and academic leader. As Associate Head of School he overseas teaching and learning activities of over 100 full-time academic staff and 3500 students enrolled in 16 undergraduate and postgraduate programs.