Faculty/Researcher Profile: Weihua Zhou, Multi-Disciplinary Digital Healthcare Solutions
By Karen Johnson, Communications Director, College of Computing and Institute of Computing and Cybersystems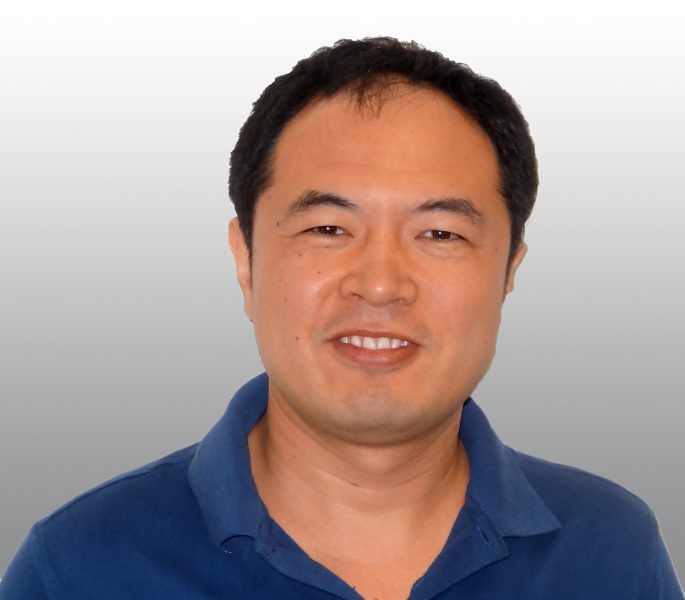 How can the cost-effectiveness of healthcare be improved, especially for complicated chronic diseases? This is the overarching question Dr. Weihua Zhou is seeking to answer with his research. The multi-disciplinary solutions he is investigating merge the fields of medical imaging and informatics, computer vision, and machine learning.
An assistant professor in Michigan Tech's Health Informatics program, and an affiliated associate professor in the Biomedical Engineering department, Zhou is working with students on a number of research projects in Michigan Tech's Medical Imaging and Informatics Lab, which he directs. He is a member of the Institute of Computing and Cybersystems's Center for Data Science.
Zhou says his research is driven by clinical significance, and he is especially interested in developing practical solutions to improve the cost-effectiveness of treating complicated chronic diseases, such as coronary artery disease, heart failure and senile dementia.
He is excited about his career, his international research, and his work at Michigan Tech. "We have a very productive team, including dedicated Ph.D. students, self-motivated graduate and undergraduate students, and a lot of experienced clinical and technical collaborators," he says of his colleagues and collaborators at Michigan Tech and around the world.
Zhou feels that he can be dedicated to both his research and teaching at Michigan Tech. "I joined the Health Informatics program at Michigan Tech, both because health informatics is my research focus, and because Michigan Tech's leading reputation among engineering schools opens opportunities to find new and respected technical collaborators.
Zhou often calls himself a salesman. "I sell techniques to our clinical collaborators and ask them to design the projects with me, provide the patient data, and test our tools," he explains. "I also sell my ideas about clinical problems to technical collaborators and ask them to work with us to solve the important clinical problems."
And when he communicates with his Ph.D. students, "sometimes I also consider them as my buyers and let them appreciate my ideas so that they can be really inspired."
Primary Research
Zhou identifies two of his research projects of as primary.
"This first is exploring image-guided approaches to improving the treatment of heart failure, which has been supported by AHA grants, and is now being supported by a new faculty startup grant," Zhou says. "The second main project is seeking to employ machine learning to improve the risk stratification for osteoporosis, which is supported by a National Institutes of Health (NIH) subcontract award from Tulane University."
On the NIH grant, awarded in December 2019, Zhou is working with internationally renowned researcher and educator Dr. Hong-Wen Deng, an endowed chair and professor in the School of Public Health and Tropical Diseases at Tulane University, New Orleans, La. Zhou and Deng are studying trans-omics integration of multi-omics studies for male osteoporosis.
Zhou is also co-PI with Jinshan Tang, professor of Applied Computing at Michigan Tech, on a Portage Health Foundation Infrastructure Enhancement Grants titled, "High Performance Graphics Processing Units." The project is focused on building big data computing capabilities toward advancing research and education. Several additional proposals are under review and revision. Zhou's past research support includes an American Heart Association award, which studied a new image-guided approach for cardiac resynchronization therapy.
Teaching and Mentoring
Zhou, who started at Michigan Tech in fall 2019, instructed Introduction to Health Informatics in the fall semester, and Applied Artificial Intelligence in Health this spring. He says that in the Medical Informatics program, the subjects he teaches are very practical.
"I believe the following strategies are very important and I practice them in my classes every day: 1) Make the class interactive; 2) Make the assignments and projects practical; 3) Emphasize the learning process; and 4) Keep the teaching materials up to date," Zhou says.
Zhou supervises two Ph.D. candidates in the Department of Applied Computing, and a Health Informatics master's student.
Applied Computing Ph.D. candidate Zhuo He's primary research project concerns information fusion between electrical signal propagation and mechanical motion to improve the treatment of heart failure. Ph.D. candidate Chen Zhao's primary research concerns using image fusion and computer vision to improve interventional cardiology. And Zhou's Health Informatics master's student, Rukayat Adeosun, is studying nuclear image-guided approaches to improving cardiac resynchronization therapy.
Education and Post-Doc
Zhou was awarded his Ph.D. in computer engineering by the Department of Electrical and Computer Engineering at Southern Illinois University Carbondale in 2012; his dissertation is titled, "Image reconstruction and imaging configuration optimization with a novel nanotechnology enabled breast tomosynthesis multi-beam X-ray system."
Following, Zhou was a post-doctoral researcher in the Department of Radiology and Imaging Sciences at Emory University, Atlanta, Georgia, then he was appointed a Nina Bell Suggs Endowed Professor at University of Southern Mississippi, where he was a tenure-track assistant professor. Zhou also completed an MSc.-Ph.D. in computer science (2007) and a B.E. in computer science and technology (2003), both at Wuhan University, China.
Achievement
Zhou received the USM College of Arts and Sciences Scholarly Research Award in March 2019, participated in the AHA Research Leaders Academy of the American Heart Association in September 2017 and August 2018, and received the USM Butch Oustalet Distinguished Professorship Research Award in April 2018.
University and Professional Service
Zhou serves on Michigan Tech's Review Committee for Graduate Dean's Awards Advisory Committee, and in October 2019 he served on the Review Committee for Research Excellence Fund (REF) – Research Seed Grants (RS).
He was an invited speaker at the Machine Learning in SPECT MPI Applications session at the Annual Scientific Session of the American Society of Nuclear Cardiology in Washington, D.C., in 2009.
Zhou is a member of the American Heart Association (AHA) and the American Society of Nuclear Cardiology (ASNC).
Peer-Review
Since Zhou joined Michigan Tech in August 2019, he has published five scholarly papers, in Journal of Nuclear Cardiology and the IEEE Journal of Translational Engineering in Health and Medicine. Two additional articles are under revision with Journal of Nuclear Cardiology and the journal Medical Physics, and one is under review by the Medical Image Computing and Computer Assisted Intervention (MICCAI) Conference 2020.
Since 2007, he has published more than 80 peer-reviewed journal and conference papers and book chapters in publications including JACC: Journal of The American College of Cardiology: Cardiovascular Imaging, Journal of Nuclear Cardiology, and IEEE Journal of Translational Engineering in Health and Medicine.
Zhou is a translator of featured papers and abstracts for the Journal of Nuclear Cardiology, and a paper reviewer for the Journal of Nuclear Cardiology, JACC: Journal of The American College of Cardiology, and JACC: Cardiovascular Imaging. He is a reviewer for American Heart Association data science grants.
Commercial Success
Zhou holds a number of patents and invention disclosures, including new methods to 1) diagnose apical hypertrophic cardiomyopathy from gated single-photon emission computed tomography (SPECT), and 2) measure right-ventricular and interventricular mechanical dyssynchrony from gated single-photon emission computed tomography (SPECT) myocardial perfusion imaging (MPI); and 3) the integration of fluoroscopy venogram and myocardial perfusion SPECT image with left-ventricular contraction sequence and scar distribution to guide the real-time surgery of cardiac resynchronization therapy.
He and his colleagues have developed a number of software tools, some of which are being used in hospitals for research purposes, and he believes that the tools can be successfully validated and become commercially available. For example, Zhou's nuclear image-guided software toolkit to improve cardiac resynchronization therapy is being validated by a large clinical trial.
A personal note.
Zhou loves independent thinking, facts and exact numbers, and he values persistence, all of which express themselves in his teaching and research, and his life.
Follow Weihua Zhou on Twitter: @LabMiil
The College of Computing's Department of Applied Computing officially starts on July 1, 2020. The new department will replace the CMH Division.