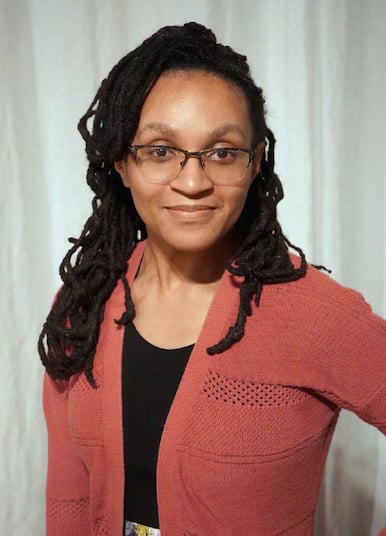 Ms. Karen Colbert , a PhD student in Computational Sciences and Engineering and a graduate research assistant for ADVANCE at Michigan Tech, has been selected as a Diversity Scholar for the 2021 RStudio Virtual Conference.
Ms. Colbert is one of 70 Diversity Scholars selected from around the globe, all of them focused on building skills for teaching and sharing. Ms. Colbert notes that her role as a Diversity Scholar will focus on ways she can use RStudio to help "bridge equity for Native faculty and faculty who serve Tribal communities."
A plethora of teaching and user workshops and resources are available through the RStudio network. Following completion of the Virtual Conference, Ms. Colbert will participate in two online workshops and become part of an enhanced network of scholars and resources, available both before and after the conference.
Ms. Colbert says that a large barrier facing tribal colleges is accessibility and sustainability with regard to costly technology, such as licenses, equipment, and support. Since RStudio is open source and has vast capabilities to perform tasks ranging from web design to reporting to statistical analyses and assessments, Ms. Colbert hopes that learning how to "teach" R will enable her to host workshops for faculty. She says it may also help her design an interactive course to help those who may be intimidated by programming, and ultimately create a platform to introduce tribal colleges to the data visualization, supercomputing, and cloud computing communities.
In addition to the equity gaps facing Native faculty, Ms. Colbert also acknowledged that there are many equity gaps for faculty at all ranks and across institutions, including MIchigan Tech.
This is where Ms. Colbert's connection to ADVANCE at Michigan Tech–and its mission to enhance equity in STEM faculty–comes into play. She hopes that her research, her experiences as a Diversity Scholar, and her position as a graduate research assistant with ADVANCE, will allow her to pursue opportunities to bring resources to all faculty members.
Further, she will endeavor to assist faculty in demonstrating "their best work to the world in the most professional way, whether it's for teaching undergraduates or within our own research."
Ms. Colbert believes this goal starts with making tools and resources accessible to everyone. Her ultimate aim is to develop unique R packages as a part of the solution.
Ms. Colbert holds a bachelor of science in electrical engineering and a master of science in data science, both from Michigan Tech. She also serves as lead math faculty at Keweenaw Bay Ojibwa Community College, Baraga. Mich., in addition to pursuing her PhD and conducting research.
ADVANCE is an NSF-funded initiative dedicated to improving faculty career success, retention, diversity, equity, and inclusion. To learn more about our mission, programming efforts, and to check out our growing collection of resources, contact us at advance-mtu@mtu.edu and visit our website at mtu.edu/advance.