---
An Immersive Exploration of Research Across Campus
The ICC's Human-Centered Computing group (HCC) will host its 4th annual HCC Research Expo, November 11, 2021, in conjunction with World Usability Day 2021.
Presented by the Institute of Computing and Cybersystems (ICC) and the Human-Centered Computing (HCC) research group, the aim of the Expo is to showcase the interdisciplinary HCC research happening across campus, and to provide a a forum for Michigan Tech students to explore HCC research opportunities, tour labs, and engage in virtual discussions.
A keynote lecture from Dr. Rick Wash, Michigan State University, takes place on November 11 at 2:00 p.m., via Zoom online meeting. An expert on the human aspects of cybersecurity, Dr. Wash is an associate professor in the Department of Media and Information at MSU. \
VR-Huskies
Also during the day-long event, participants can visit VR-Huskies, an exciting virtual social platform that leverages 360-degree panorama technology. Projects, brief research talks, and lab tours will be available on demand for attendees to browse at leisure.
Link to VR-Huskies here.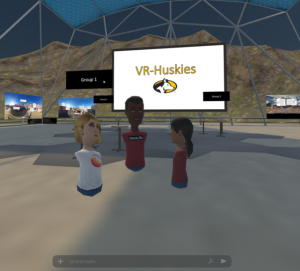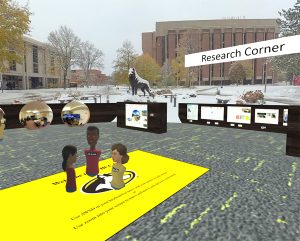 VR-Huskies is an active research project led by new faculty member, Assistant Professor Ricardo Eiris, Civil and Environmental Engineering, and sponsored by the College of Engineering. It is a custom implementation of Mozilla Hubs®, an open-source platform which creates custom dynamic representations of information.
Participants can enter the VR-Huskies site with minimal effort, interacting with up to 25 others as they explore the latest research developments in human centered computing at Michigan Tech. Registration is not required. VR Huskies is accessible on any device, including head-mounted displays, desktop computers, laptops, tablets, and mobile devices.
---
Founded in 2015, the Institute of Computing and Cybersystems (ICC) promotes collaborative, cross-disciplinary research and learning experiences in the areas of computing education, cyber-physical systems, cybersecurity, data sciences, human-centered computing, and scalable architectures and systems.
The Center for Human-Centered Computing (HCC) investigates a wide range of 21st century human-centered computing challenges, engaging faculty from computer science, psychology, engineering, and other Michigan Tech departments. The Center is directed by Associate Professor Elizabeth Veinott, Cognitive and Learning Sciences, a cognitive psychologist who focuses on research in decision making and learning using serious video games.