---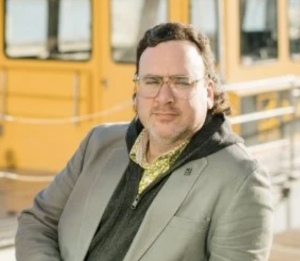 Researchers from the Great Lakes Research Center, including Director Tim Havens (CS, ICC–DataS), Research Engineer Erik Kocher, and Research Intern Andy Nold, traveled to Rogers City, Michigan, for the U.S. Coast Guard Response Equipment Demonstration and Deployment Exercise event hosted by U.S. Oil on July 19, 2022. The event was attended by various emergency response groups, government organizations, industry leaders, and academic institutions.
At the event, GLRC researchers highlighted and demonstrated the capabilities of their Autonomous WaveRunner, the development of which is funded through the Autonomous and Intelligent Systems Tech Forward Initiative. The event consisted of a static display that allowed attendees to examine the technology up close, and an on-water demonstration during which the platform was remotely piloted to deploy an oil boom in Lake Huron, where an environmentally friendly dye to simulate an oil spill had been released. The demonstration focused on showcasing how marine autonomy is an invaluable asset when it comes to emergency response situations.
If you are interested in learning more about the platform, please see the GLRC Research Highlights page.