Their work to develop a new computational analysis for cerebral aneurysm research earned Jingfeng Jiang and Kevin Sunderland the 2022 Michigan Technological University Bhakta Rath Award.
---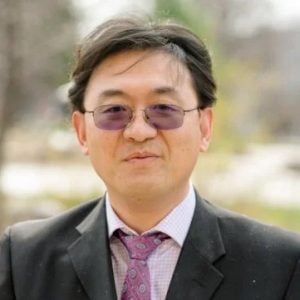 Research mentor Jingfeng Jiang (BME) and doctoral student Kevin Sunderland worked with a team of neurosurgeons, biomedical engineers and radiologists on a novel, computer-aided method to better manage the response to unruptured brain aneurysms.
Jiang, professor and graduate program director for biomedical engineering, and Sunderland '20, were recognized with the highest honor presented annually to a research mentor and Ph.D. student whose work carries lasting ramifications for the betterment of humankind.
Jiang is director of the Institute of Computing and Cybersystems's (ICC) Center for Biocomputing and Digital Health (BDH).
Read a Michigan Tech News article about this year's recipients of the Bhakta Rath Award.