---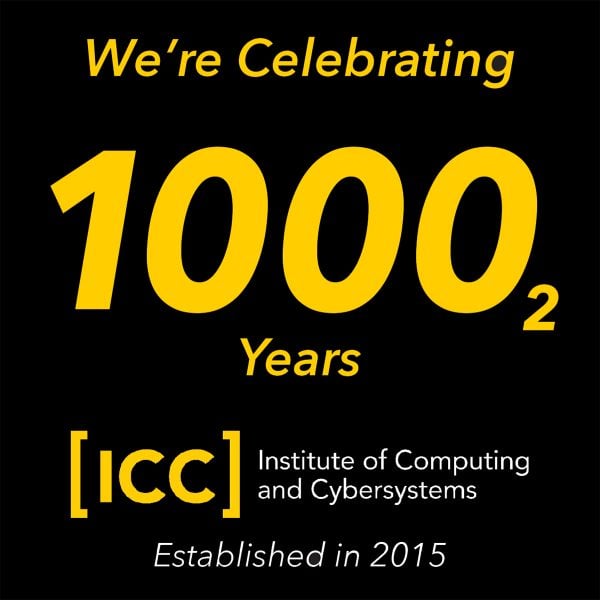 Chartered in 2015, the Institute of Computing and Cybersystems (ICC) is celebrating 10002 years.
Starting with about 25 members in three research centers, in eight years the ICC has grown to seven centers and more than 80 researchers from across campus representing all five Michigan Tech colleges and more than a dozen academic departments. Active ICC-affiliated grants and contracts exceed $13.3 million.
The ICC was established through the generosity of alumnus and major donor Dave House '65, and the House Family Foundation, with additional major donations in support of ICC research from Kanwal Rekhi '69 and Paul Williams '61.
Originally the research arm of the Alliance of Computing, Information, and Automation (ACIA) at Michigan Tech, the ICC provides faculty and students the opportunity to work across organizational boundaries to create an environment that is a reflection of contemporary technological innovation. Member scientists are collaborating to conduct impactful research, make valuable contributions in the field of computing, and solve problems of critical national importance.
The ICC brings distinguished scholars to campus, hosts and sponsors seminars, and co-hosts, with the College of Computing, the annual Computing[MTU] Showcase. Additional member benefits include support for graduate students, student travel support, seed funds for junior faculty, proposal development services, computing facilities, and communications and marketing support, among many other activities.
The ICC is directed by Timothy Havens, the William and Gloria Jackson Professor of Computer Science, as well as the director of Michigan Tech's Great Lakes Research Center. Dukka KC , College of Computing associate dean for research and associate professor of computer science, is the ICC's associate director. Each of the research centers is led by an associate director. The founding director of the ICC was former faculty member Min Song, then chair of the Department of Computer Science.
The Michigan Tech Alliance for Computing, Information, and Automation (ACIA) was formed in 2014 as an agreement among the departments of Electrical and Computer Engineering and Computer Science, and the academic programs in Electrical Engineering Technology and Computer Networks and Systems Administration. The group worked to promote cooperation to align scholarly activities more closely with contemporary technological innovation in industry and society, leverage the research capabilities of individual faculty members and researchers, and provide opportunities for the development of larger, interdisciplinary projects.