We're excited to introduce our new Service Catalog, which organizes IT services in one location for you to find and request IT help. The new Service Catalog is an extension of our new system for tracking and resolving your requests and is available alongside our existing Knowledge Base.
In the Service Catalog, you can perform keyword searches and "favorite" frequent request forms. After submitting a request, you can communicate with an IT staff member and see your request's status updates. It will also suggest related Knowledge Base articles if a self-help option is available while you search for a service.
As we transition to our new system, be aware of the following changes:
Active service requests will still be in the old system
As we transition to the new request system, any current, open requests you have will still be visible and active in the old system.  If you use our current system to track your requests, you can continue to do so, but you'll need to update any saved links or browser favorites from servicedesk.mtu.edu to servicedesk.it.mtu.edu.  New requests for IT help as of January 6 will be available and can be viewed and interacted with in the new Service Catalog.
Emails have a new look
Email replies sent from the new system will have a different look. The new email notifications will have text wrapped with a gold border.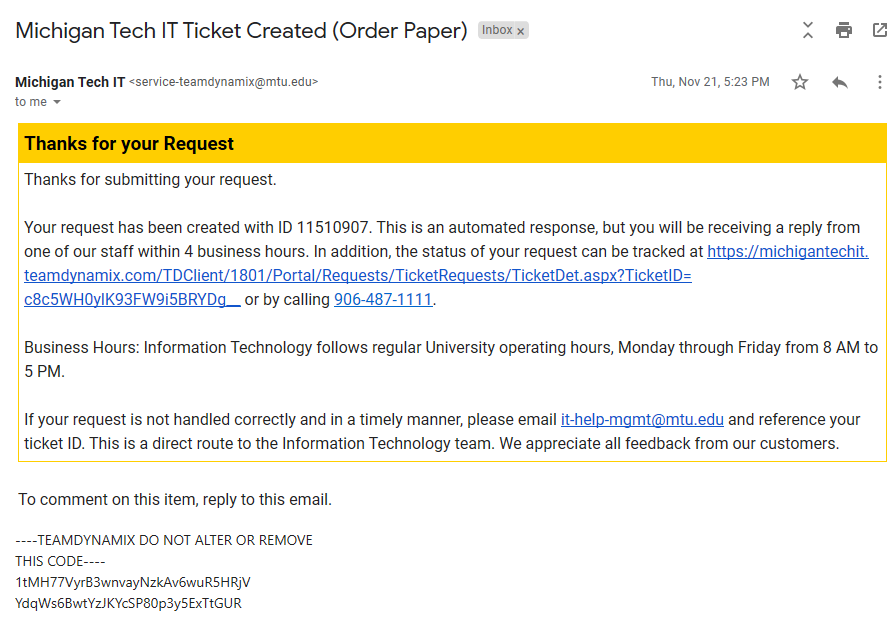 Feedback
So that we can continue to improve our service, we currently ask for your feedback in the last email associated with your request. In our new system, we'll ask for your feedback in a separate email you'll receive the day after we've resolved your request.
If you have any questions about the new Service Catalog, we can help. Contact us at it-help@mtu.edu, or call 7-1111.