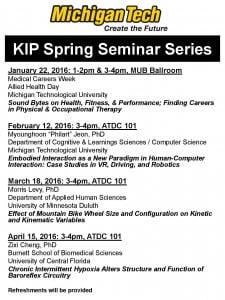 The KIP Fall Seminar Series wrapped up in December with Dr. Syd Johnson, Assistant Professor in the Department of Humanities, presenting on the ethical and legal implications surrounding concussions and CTE (chronic traumatic encephalopathy). Dr. Johnson's presentation was featured on the front page of the December 7th edition of the Daily Mining Gazette.  Gazette Article-Head trauma 
We kicked off the spring series with Medical Careers Week in January.  Our second spring seminar will be held next week Friday, Feb. 12th in the ATDC (101) at 3:00 pm.  Dr. Myounghoon Jean, Assistant Professor in the Department of Cognitive & Learning Sciences and Computer Science, will present on his research related to human-computer interaction and human-robot interaction.
These monthly research seminars are a great way for students and faculty to broaden their knowledge beyond their specific area of research/interest.