Please join us this Thursday October 8, 7:00-8:00pm EST.
See more on the U.P. Town Hall Series here: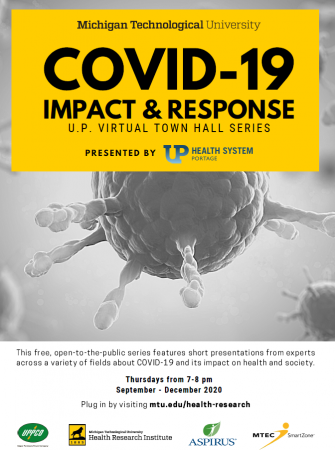 An in-depth look at the many facets of the COVID-19 will be presented every Thursday evening on the U.P. COVID-19 Town Hall Series. Organized by the Health Research Institute at Michigan Technological University, the 60-minute town hall broadcasts can be heard at 7 p.m. each Thursday through Dec. 3 on 97.7 The Wolf (WOLV-FM) and viewed through a Zoom Webinar. Over the course of the series, moderated by Drs. Steven Elmer and Kelly Kamm, clinicians, public health officials, researchers, and community experts will discuss a range of pandemic-related issues.

The Town Hall this Thursday, October 8th, will focus on the "Importance of Staying Physically Active during the COVID-19 Pandemic." Elmer and Kamm will be joined by Dr. Keri Denay (University of Michigan – Family and Sports Medicine Physician), Angela Luskin (UP Health System Portage – Health and Fitness Manager), Steve Short (Denver Nuggets – Physical Therapist and Sports Medicine Director), and Jamie Phillips (Michigan Tech University – Kinesiology and Integrative Physiology).