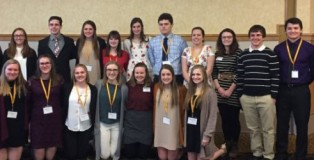 Four students who are entering Michigan Tech this fall to pursue health-related careers have received $8,000 Making a Difference scholarships from the Portage Health Foundation. Another 10 entering first-year students received $1,000 awards.
The $8,000 scholarships went to:
Peter Alger, Houghton, computer engineering
Alexa Destrampe, Lake Linden, exercise science
Hannah Kariniemi, Calumet, biological sciences
Karmyn Polakowski, Houghton, biological sciences
Receiving $1,000 scholarships were:
Blake Dupuis, Lake Linden, exercise science
Lauren Gabe, L'Anse, biological sciences
Austin Goudge, Houghton, medical laboratory science
Bella Nutini, Hancock, exercise science
Celia Peterson, Calumet, biomedical engineering
Anna Pietila, L'Anse, biological sciences
Lindsay Sandell, Houghton, biomedical engineering
Brooke Tienhaara, Calumet, biological sciences
Nicholas Walli, Finlandia University, biological sciences
Sloane Zenner, Houghton, mechanical engineering
The students are from Houghton, Keweenaw, Baraga or Ontonagon counties.
The 14 recipients of the 2017 awards have an average GPA of 3.81. Their interests reflect a broad spectrum of majors including biological sciences, exercise science, biomedical engineering, computer engineering, medical laboratory science and mechanical engineering. The scholarship winners flip Michigan Tech's male to female ratio of 3:1, with 10 female and 4 male recipients.
The scholarships are part of a Michigan Tech-Portage Health Foundation partnership established in 2015 to support health-related research and education, jobs and community health. The scholarships were first awarded in 2016.
"The awards reflect the high-caliber student talent we have locally, thanks to exceptional schools, outreach programming and parent support," says Jodi Lehman, director of foundations at Michigan Tech. "We know that student talent is key in supporting the success of college peers and inspiring K-12 students to pursue health science and engineering pathways.
The Portage Health Foundation and Michigan Tech share the long-term goal of retaining or recruiting back local workforce talent — whether that be orthodontists, doctors, physical therapists, orthopedic surgeons, biomedical engineers or professionals in the field of medical informatics. Scholarships ultimately play a critical role in helping to grow our local economy while fostering healthy communities."
At a dinner for finalists, the scholarship recipients heard from current students also supported by the Portage Health Foundation through the Undergraduate Research Internship Program (URIP). Both speakers shared their internship experiences and career goals.
Read the full story.