A total of 14 st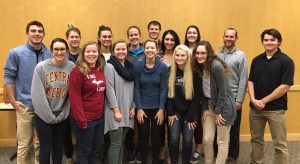 udents (seven exercise science, one biomedical, six physical therapy) and 15 clinicians from across the Upper Peninsula recently participated in a weekend-long cancer rehabilitation workshop.  UP Health System-Portage and the Department of Kinesiology and Integrative Physiology hosted the event in an effort to inspire future cancer rehabilitation research.
Lead by Nicole Stout DPT, CLT-LANA, FAPTA, a renowned healthcare researcher, consultant, educator, and advocate, the workshop created an excellent opportunity for students to work side-by-side with physical therapists.
Joel Kangas, a third-year graduate physical therapy student, describes the event in detail below.
UP Health System-Portage (Physical Therapy) and Michigan Tech's Department of Kinesiology and Integrative Physiology hosted a two-day Cancer Rehabilitation Continuing Education Course. The course was led by Dr. Nicole Stout.  Stout is nationally recognized as an expert and leader in cancer rehabilitation, has given over 200 lectures, and published more than 20 peer-reviewed publications. There were over 30 individuals that participated including experienced physical therapists, graduate physical therapy students from Central Michigan University's satellite physical therapy program, and undergraduate exercise science and biomedical engineering students from Michigan Tech. The course primarily consisted of lectures and case study breakout sessions. Additionally, student participants had the opportunity to network with physical therapists and talk with Dr. Stout. 

Dr. Stout did an incredible job of offering an exciting and interactive experience for everyone. The course has made it quite clear that physical therapy plays a crucial role in cancer rehabilitation for many forms and stages of cancer. Regardless of whether you are a physical therapist with 15+ years of experience, a graduate physical therapy student, or an undergraduate pre-physical therapy student there was much to learn from this experience.

Following the conclusion of the course, several individuals were asked to reflect on how they felt about the experience.

Colleen Toorongian, an exercise science undergraduate student commented that the course opened up her thoughts on cancer rehabilitation and "The need for rehab providers and doctors to come together and approach treatment options differently".

Alyssa Vinckier, a second year graduate physical therapy student stated, "The course allowed me to expand on my knowledge from school and helped me realize how beneficial physical therapy can be for individuals who have cancer or have a history of cancer".

From a patient care standpoint, Katie Temple, a physical therapist with UP Health System-Portage, had a few words to say. She emphasized how highly regarded Dr. Stout is in the physical therapy profession, "We are so lucky to have someone of her expertise and experience come up here. Dr. Stout has made some great accomplishments having received service awards from the National Institute of Health Clinical Center, the Navy Surgeon General, and the Oncology Section of the American Physical Therapy Association". Katie expanded on the course saying "there is much more we should be doing as a physical therapy profession in cancer rehabilitation beyond addressing just lymphedema, fatigue, and soft tissue stretching". Katie also adds, "Dr. Stout talks about the much greater risk of falls in patients who have undergone cancer treatment, and the role that we as physical therapists have in appropriate screening and prehabilitation options to reduce that risk". 

A special thanks goes out to Dr. Stout for her time, to Physical Therapist Mark Randell from UP Health Systems-Portage, and Professor Steve Elmer from the Department of Kinsiology and Integrative Physiology for sponsoring the event. The two institutions hope this course sparks an initiative to perform future research pertaining to cancer rehabilitation.