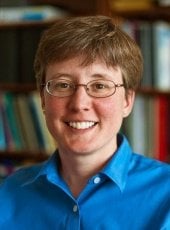 Department Chair, Megan Frost, (KIP) was named a 2020 American Kinesiology Association (AKA) Leadership Institute Fellow. Jason Carter, Vice President for Research, Economic Development and Graduate Education at Montana State University, who serves as AKA past-President and is one of the co-directors for the Leadership Institute, said, "This year's cohort for the AKA Leadership Institute is simply outstanding. It contains eleven new or aspiring department chairs from programs across the entire United States. It is a well-respected and impactful professional development program for emerging kinesiology leaders in the field."
The AKA defines kinesiology as the academic discipline that involves the study of physical activity and its impact on health, society and quality of life. This includes, but is not limited to, areas of study such as exercise science, sports management, athletic training and sports medicine, socio-cultural analyses of sports, sport and exercise psychology, fitness leadership and more. The AKA is committed to cross-disciplinary study in kinesiology as well as cross-disciplinary application of knowledge to problems in the physical activity field.
More information about the AKA Leadership Institute can be found here.