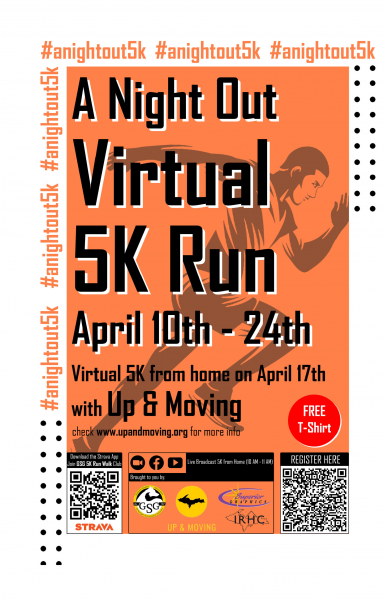 On April 17th MTU's Graduate Student Government (GSG) along with the UP and Moving Program in the Department of Kinesiology and Integrative Physiology will host a live virtual 5km event at 10am. The event is free and open to students, staff, faculty, and community members from near and far!
Join us at 10am on Zoom for a warm-up, welcome activity, and photo! The virtual 5km will consist of two different ways to participate. Follow along with us on Zoom for a fun and exciting movement-based workout that will accumulate the total number of steps needed to cover the 5k distance. Alternatively, walk, run, or hike your own 5k outdoors or indoors.
The event is a joint celebration of GSG's "A Night Out" and UP and Moving's 100th live home-based workout.
For those individuals that cannot make the live virtual event, the 5km distance can be completed anytime between April 10-24th. Registered participants can receive a free t-shirt. For more information visit the UP andMoving website and click here for the GSG registration link.