Materials Science Student Wins Global Literacy Award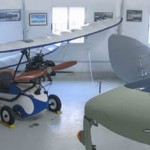 The Provost's Office has announced the first winner of a new Global Literacy Award. It is Emily Wolbeck, a materials science and engineering major. She also is enrolled in the Pavlis Institute for Global Technological Leadership certificate program.
The Global Literacy Award was established to encourage students to improve their understanding of global issues. Global literacy is one of Michigan Tech's student-learning goals.
The award is a $1,000 scholarship that Wolbeck will use to study in Malta this summer. Two other Pavlis Institute students will accompany her. They will work with the Maltese Aviation Museum to help the museum portray American participation in the Air Battle of Malta during World War II.
Read more at Tech Today, by Jennifer Donovan.